With Pressbooks you can easily change the design/appearance (called "Themes") of your book with the push of a button. This article will tell you about:
How (and why) to use different Themes to style your ebook and your PDF for print
How to change your Theme Options

How to change your Pressbook Theme
How and Why to Change Your Theme
All books are wonderful things, but all books are not created equal. A hard-boiled crime novel is not the same thing as a heart-warming memoir, or a serious piece of academic writing. And for different books, you want different styles (or designs, or templates, or, as we call them, Themes). Pressbooks has dozens of Themes to choose from, with styles for all kinds of books.
Here's how you can change your Theme to suit your book:
Go to your Pressbooks dashboard.
Click on "Appearance" in the left-side menu.
Then, click "Themes."
Peruse the dozens of Themes–with book layouts ideal for every genre from literature, sci-fi, fiction, nonfiction, academia and more.
Click on a Theme to see a larger preview and Theme details (note: the preview displayed is of the PDF. Web and ebook may differ slightly).
To apply the Theme, click on "Activate" at the bottom of the window.
Once your theme is activated, try exporting your book to see how it looks.
You can change your theme at any time.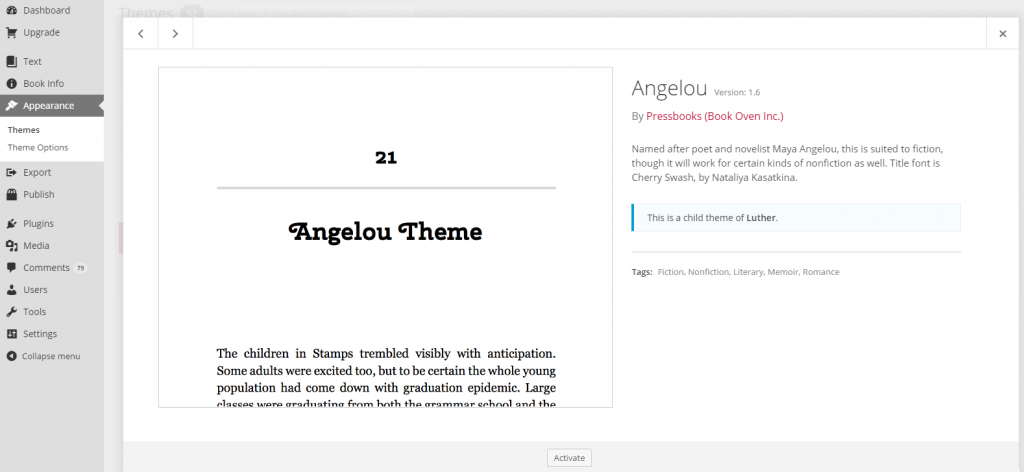 Customizing Your Theme
You can customize how certain elements are handled by your theme.
Click on "Theme Options" in the left-side menu.
Four types of options will appear: Global, Web, PDF and Ebook options.
Specify Global Options
Certain options apply to both PDF and ebook formats, as well as the Web version of your book. These options can be accessed under the tab called "Global Options." Currently there are five options that apply to all book formats. You may:
Decide whether to display part and chapter numbers or to omit them.
Enable or disable a two-level table of contents (TOC).
Display or remove the copyright licence.
Add fonts to support languages that require special characters beyond those included by default.
Click on "Save Changes" to save your preferences.
Theme Options for Web
There are currently three options available that apply to the web version of your book. You may:
Enable or disable social media sharing on every page of your book.
Choose whether to indent or skip lines between paragraphs.
Choose whether to display the part title on each chapter.
Theme Options for PDF Exports
If you're planning to publish your book in print-on-demand stores, you should customize the PDF Options for your theme.
Click on "PDF Options."
Click on "Page Size" to choose your book trim size. (The page sizes offered in Pressbooks correspond to the most popular book trim dimensions you will find with print-on-demand publishers.)
By checking "Hyphens," you can tell Pressbooks whether to hyphenate automatically.
Choose whether to indent or skip lines between paragraphs.
Choose whether you would like section openings for the print PDF to be on either left or right hand pages, or on the right hand page. If you are preparing a PDF for digital distribution, you can choose to remove blank pages between sections.
Specify whether to include or remove blank pages between chapters. (If you are planning to print your book, you should not remove blank pages; if you plan to distribute your PDF as a digital file, you don't need these blank pages.)
Choose whether to display a table of contents (if your chapters are One, Two, Three — does a table of contents help the reader?)
Choose your image resolution (300DPI is recommended for print, 72DPI for digital displays).
Check "Crop Marks" to display crop marks (a requirement for some printers and print-on-demand services).
If you are using notes, decide whether you want footnotes or chapter endnotes.
Tell Pressbooks how many lines constitute widows and orphans (NOTE: This feature doesn't work very well!)
Increase the font size and line height for greater accessibility.
Click "Save Changes" to apply your preferences.
Get more detail about PDF export options in this Guide post.
Theme Options for eBook Exports
There are currently two options to customize for ebook exports.
Click on "ebook Options."
Tell Pressbooks whether to indent or line-space between paragraphs.
Compress your images, if desired (a good idea if you have uploaded high resolution images — otherwise you'll have a huge ebook!)
Save changes.
Changing Your Pressbooks Theme
You can change to a new theme at any time. Simply repeat step 1, above.
For more help using existing themes, watch this quick tutorial video:
If you wish to customize your theme even further, this video will show you how to get into your book's CSS.