The primary function of Pressbooks is create the files you need to publish your book: typeset PDF files for print/print-on-demand, and ebook files for Kindle, Apple, Kobo etc. This chapter tells you how to:
export and download your files (which you can then, on your own, send to ebook stores and print-on-demand services)
upgrade your book, to remove Pressbooks ads and watermarks
1. Select Which Content You Want to Export
You can decide which of your content you want to export. To do this:
Go to Text –> Organize
Find the Export column of checkboxes (right-hand side)
Select the chapters you wish to export
2. How to Export Your Book Files
The Pressbooks export will instantly generate files in all the formats you need for print, print-on-demand and ebook publishing. These include MOBI files for Kindle; ePub for iBooks, Nook, Kobo, Smashwords and others; and PDFs to use as interior files for print-on-demand or print outlets. Here's how to create your book files:
Go to your Pressbooks dashboard.
Click "Export" on the menu at left.
Select the formats you would like files to export in. Choices will default to standard book formats: EPUB, Mobi and PDF (for print and/or digital distribution). (These formats are designed for the most popular ebookstores as well as print and print-on-demand publishing and will serve the needs of most authors.)
If you need them, Pressbooks also has some more sophisticated output options. Pressbooks' "exotic" book file formats include XML, and XHTML. Select these if they apply.
Click the button that says "Export Your Book."
Wait until the files are generated…. and under Latest Export you'll see your most recent files.
Download your exported files by clicking on the down arrow on each of your most recent exported files (or right-click, save as)
IMPORTANT NOTE: If you make changes to your book, you will need to:
Export a new set of files
Download those new files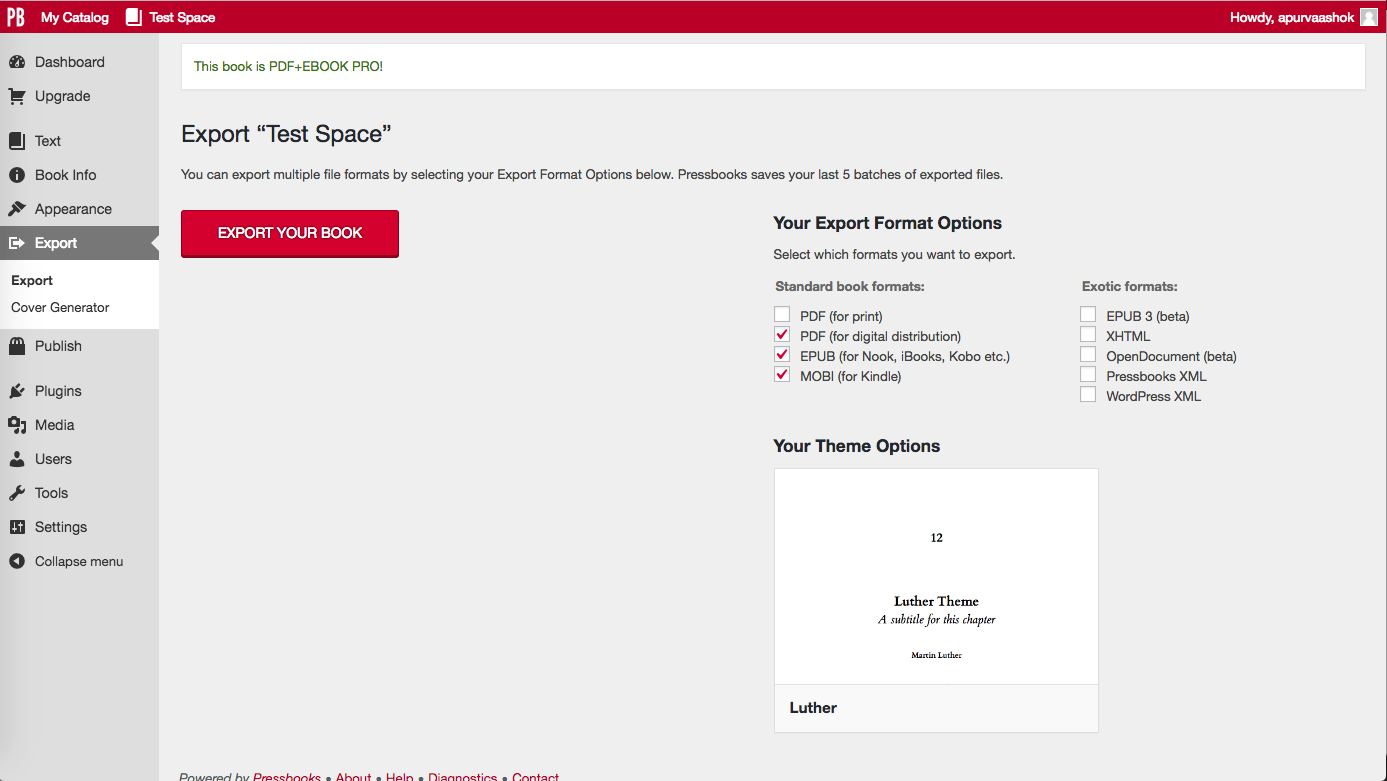 Need to make a change? You can re-export your book at any time by repeating the steps above. This is particularly helpful if you'd like to test your files in ebook previewers or print copies for offline reading and editing. (However, your book file will contain the Pressbooks promotional watermark on pages until you upgrade.)
Pressbooks saves the last five batches of exported files.
3. Upgrading Your Book Files
Until you upgrade, your files will contain the Pressbooks promotional watermark.
Upgrading to the Ebook Pro package removes the watermark from ebook file formats–EPUB and Mobi–and also gives you 25 MB of storage space.
Upgrading to the PDF+Ebook Pro package removes the watermarks from EPUB, Mobi and PDF files and allots 250 MB of storage space to your upgraded book.
To upgrade:
Click "Upgrade."
Choose your upgrade package.
Enter your personal and credit card information.
Finalize the transaction. Your book will now be upgraded.
Note: Once you upgrade, you can still re-export your files. The upgrade is permanent for each book you upgrade and will apply to all future exports of the same book.
Need more help? Check out our brief video demonstration:
To find out how to set up web distribution of exported files for books on your PressbooksEDU Network,
click here
.