93

Print-on-Demand in CreateSpace
CreateSpace will print and mail one copy of your book each time a reader purchases it, with no minimum order.
Pressbooks makes it easy to create interior files to publish your book in CreateSpace and other print-on-demand venues. In this article, you will learn:
How to create your interior file for publishing your book in CreateSpace and customize the layout of your interior PDF file
How to publish your book in CreateSpace
1. Creating Your CreateSpace Interior File in Pressbooks
Upgrade to Pressbooks' PDF pro package. (This removes the promotional watermarks.)
Customize the appearance of your PDF export. (Most important, be sure to select your book's desired trim size under Page Size. The sizes available here match those offered through CreateSpace and typical publishing services.)
Export your book as a PDF, which will become what CreateSpace refers to as your "interior file."
Download the PDF file that Pressbooks generates.
Save that file to your desktop.
2. How to Publish Your Book In CreateSpace
Have your book's information such as author, title and edition number ready–you'll need them to publish. You will also need your banking and tax information handy.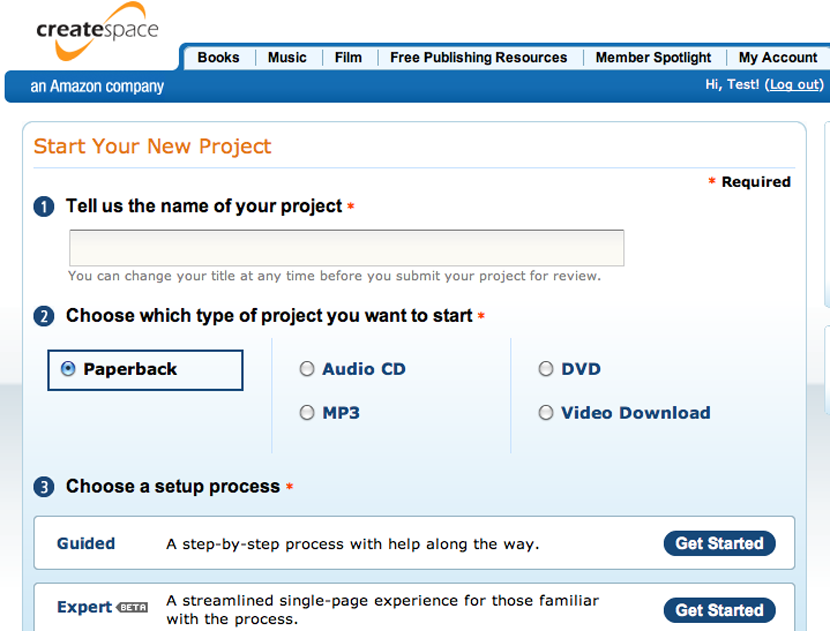 Go to CreateSpace and create an account.
Agree to CreateSpace's terms of service.
You will be prompted to add your book information if you are a new user.
If you are an existing user, on the member dashboard, select Add New Title.
Select Guided Setup. CreateSpace will walk you through each step of the publishing process.
Choose from a selection of ISBN options. (You can also skip this step and return to it later.)
Select your book's trim size, interior and paper options.
Under Upload Your Book, click Browse to upload the PDF interior file you created in Pressbooks.
Run an Automatic Print Check. (In this step, CreateSpace's Interior Reviewer will check for any layout problems.)
Take a look at the preview CreateSpace's Interior Reviewer generated to make sure everything looks as you expected.
Upload your book cover file. (If you have upgraded to PDF+EBOOK Pro and don't have a cover file designed, you can use Pressbooks' cover generator to create your cover. CreateSpace also has tools that will enable you to create one.)
Choose a matte or glossy finish for your book cover.
Select your preferred channels of distribution (Createspace lets you distribute through Amazon and others too).
Submit your book for publication.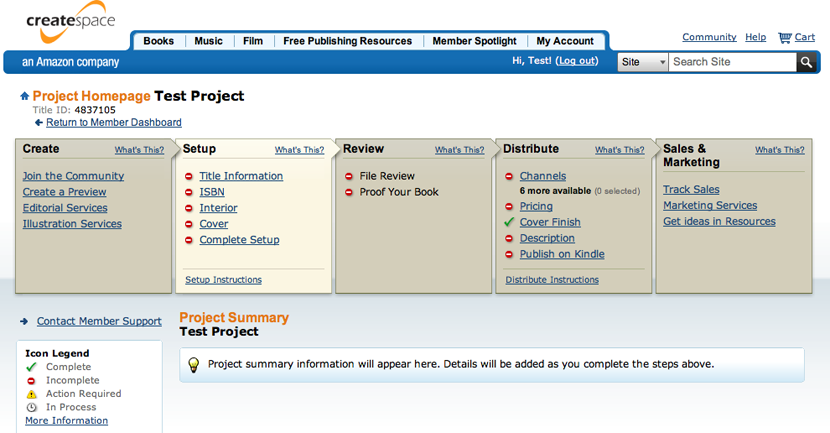 What Happens Next
At this stage, it can take up to a day or two for a human at CreateSpace to review your book (though it's usually quicker).
You'll receive an email when your book is approved or if any glitches were found.
If there are no issues, you can move on and proof your book.
You can proof your book digitally and/or order a book proof in the mail for a negligible fee.
If CreateSpace found problems or if you want to make further changes, you will have to resubmit your files. This will start a new waiting period (usually a day or two) while your book is reviewed again.
Once you're satisfied with your book proofs, continue on to publish your book.
As soon as you publish, your book will show up in CreateSpace immediately. You can send potential customers a direct link to buy your book there.
If you've chosen to also offer your book through Amazon and additional channels, it will take a few days longer to appear there.