Every Pressbooks account comes with a catalog page you can use to showcase and promote some or all of your books as an author.
This chapter will explain:
What the catalog page is for
How to make books visible or invisible on your catalog page
Tagging books
How to customize the catalog profile elements of your catalog page
How to display your catalog in a private Pressbooks install
Purpose of the Catalog Page
Sharing the link to your catalog page helps you market your books in a visual way. Here's one example: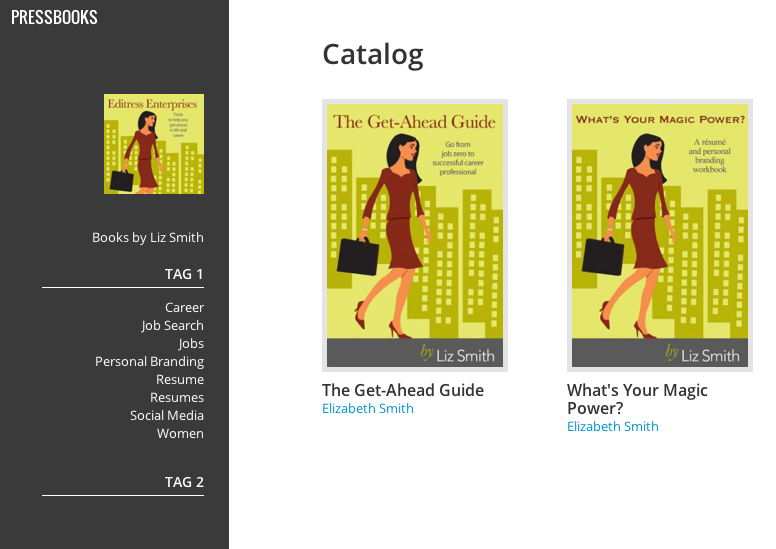 Readers can click on the cover of each of your books, which will take them to the landing page for each to read the description and learn more. If a book is public, readers can begin reading from the landing page. If only a few chapters of that book are public, they can browse the public sample chapters. And if the book is private, they can still read the book description, generating interest in your book.
Hiding or Showing Books on Your Catalog Page
Regardless of whether your book is public or private, you can choose whether to include it on your catalog page.
To adjust how your catalog looks, click on My Catalog at the top left corner of the Pressbooks interface. All the books you are creating on Pressbooks will show up here.
To show or hide an individual book, hover right below the checkbox next to that book.
If the book is currently shown, the option to "Hide in Catalog" will appear. If hidden, the option to "Show in Catalog" will appear.
Click on this text to take the chosen action.
You can tag your books with search terms:

Hover over a book in the Tag 1 or Tag 2 columns.
The red option to Edit Tags will appear.
Click on that to add tags to your book that will make it more searchable, sortable and discoverable.
Customizing Your Catalog Profile
Next to My Catalog, click Edit Profile.
This will take you to a page where you can add information about you as an author and / or your books.
You can also tag your profile with relevant keywords and add an author photo or logo for your publishing company.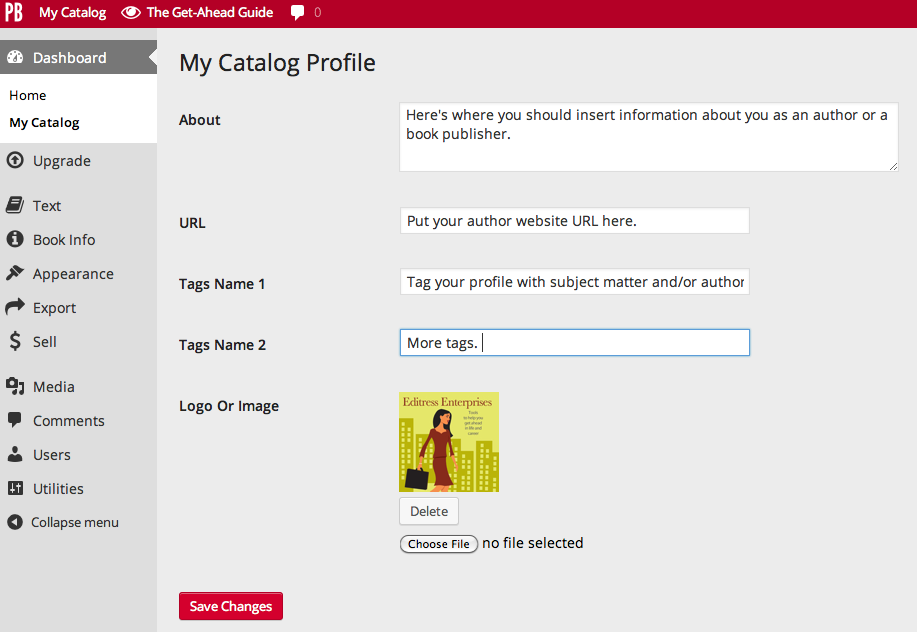 Displaying a Catalog in a Private Pressbooks Install
If you have a private Pressbooks install, you may want to display your catalog on your custom homepage. To do so, follow these steps:
Go to "My Catalog" on the top menu bar
Go down to "Network Admin", then click on "Sites" (This will open a list of all your books)
Check the "In Catalog" option next to all the books you wish to display
Return to your install homepage to see the results!