Spanish Level 1, Activity 04: La Escuela / School (Online)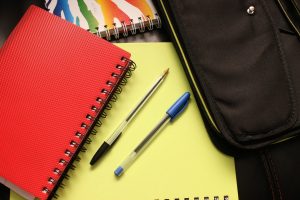 Description: In this activity, students will practice school supply vocabulary. The lab instructor will start with a Kahoot game as a warm up. For the main activity, students will play jeopardy to practice vocabulary and practice making complete sentences. They will then be asked wrap-up questions.
Semantic Topics: Kahoot, Jeopardy, school, school supplies, objects, backpack, escuela, materiales escolares, objetos, mochila
Grammatical Structures: nouns, sustantivos
Products: Jeopardy game
Practices: Discussing school and school subjects with others
Perspectives: The importance of education in a culture
World-Readiness Standards:
Standard 1.1 Students engage in conversations, provide and obtain information, express feelings and emotions, and exchange opinions.
Standard 1.2 Students understand and interpret spoken and written Spanish on a variety of topics.
Standard 1.3 Students present information, concepts, and ideas in Spanish to an audience of listeners or readers on a variety of topics.
Idaho Content Standards for World Languages:
COMM 1.1 – Interact and negotiate meaning (spoken, signed, written conversation) to share information, reactions, feelings, and opinions
COMM 2.1- Understand, interpret, and analyze what is heard, read, or viewed on a variety of topics.
NCSSFL-ACTFL Can-Do Statements:
I can…
Identify items that are common in a classroom or household.
Answer a question and give a reason why I answered that way.
Warm Up
Materials Needed for the Warm Up
Begin by opening the

Google Slideshow

and introducing the

can-do statements

.
For the warm-up, we are going to play

Kahoot

. Tell the students to go to "Kahoot.it" and to enter the pin showing on the screen.
Para el calentamiento vamos a jugar "Kahoot." Vayan a la página de "kahoot.it" e introduzcan el código. 
Main Activity
Materials Needed for the Main Activity
There will be a set of slides that will have different objects. Students will practice talking about themselves and their preferences in full sentences and the instructor will ask a follow-up question. For example: "Do you prefer colored pens or black pens for taking notes?"
¿Prefieres escribir notas con las plumas con tinta negra o con tintas de muchos colores?
OPTIONAL ACTIVITY IF TIME PERMITS: The instructor will facilitate a Jeopardy game about school supplies to practice vocabulary.


Para la actividad principal, vamos a jugar Jeopardy con preguntas sobre los materiales escolares para practicar vocabulario.

For the next part, the students will play Jeopardy, answering in complete sentences. Give the students an example.
Vamos a jugar otra vez más, pero vamos a usar oraciones completas.
Por ejemplo:
¿Qué cosa es la más importante que tienes en tu mochila?
La cosa más importante en mi mochila es ______.
Begin the second game to practice making complete sentences.


Vamos a comenzar con el juego de Jeopardy usando oraciones completas.
Wrap Up
Ask the following wrap-up questions:
¿Qué es la cosa más importante en sus mochilas? 

(What is the most thing in your backpack?)

¿Les gusta escribir con una pluma, lápiz o solo usan una computadora? 

(Do you like to write with a pen, pencil, or do you only use a computer?)

¿Cuál es tu lugar favorito en la escuela?  

(What is your favorite place in school?)
End of Lab
Read can-do statements
Encourage students to be honest in their self-evaluation
Pay attention, and try to use feedback for future labs!
Can-Do Statements:
I can…
Identify items that are common in a classroom or household.
Answer a question and give a reason why I answered that way.
Cultural Notes:
How to Remix a Pathways Project Activity
Feeling creative?  The Pathways Project needs your help in remixing activities for the K-12 classroom.
Try taking an activity to the next level by:
Add new content (something you've created or another OER source)
Contribute additional activity suggestions
Integrate authentic materials such as videos, infographics, photos, etc.
Suggest how to implement the activity in the classroom
Customize the content for a specific audience or group of learners (for example, K-5 learners or to differentiate for student's needs)
We want to make it easy to share back with the larger Pathways Project Community! Simply, click this link to remix this activity. Please consider sharing your remixed activity with us by emailing the activity link to Pathwaysproject@boisestate.edu so that Pathways continues to grow!
If this is your first time remixing, check out our

one minute tutorial

below: