Spanish Level 2- Activities Designed for Online Instruction
🎉 Spanish Level 2, Activity 11: Las Fiestas y Los Eventos / Parties and Events (Online)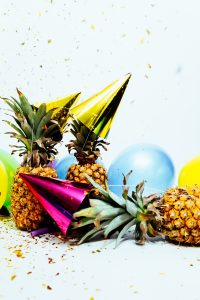 Description: Students will talk about fun events and things to do in Spanish-speaking countries. They will practice how to reject or accept an invitation, emphasizing a polite way to explain why you can or can't go. They will also discuss what they did at an event with family or friends.
Semantic Topics: Parties, events, scenarios, discussion, activities, reasons, conversations, eventos, conversaciones, actividades, razones, fiestas, eventos
Grammatical Structures: Preterite, irregular preterite, verbs that change meaning in the preterite, el pretérito, el pretérito irregular, veros que cambian de significado en el pretérito
Products: Celebrations and parties, quinceañeras
Practices: Party traditions
Perspectives: What do people like to celebrate in other countries?
NCSSFL-ACTFL World-Readiness Standards:
Standard 1.1 – Students engage in conversations, provide and obtain information, express feelings and emotions, and exchange opinions.
Standard 1.2 – Students understand and interpret spoken and written Spanish on a variety of topics.
Standard 2.1 – Students demonstrate an understanding of the relationship between the practices and perspectives of Hispanic cultures
Standard 4.2 – Students demonstrate an understanding of the concept of culture through comparisons between Hispanic cultures and their own.
Idaho State Content Standards:
COMM 1.1 – Interact and negotiate meaning (spoken, signed, written conversation) to share information, reactions, feelings, and opinions
COMM 2.1 – Understand, interpret, and analyze what is heard, read, or viewed on a variety of topics.
CLTR 1.1  – Analyze the cultural practices/patterns of behavior accepted as the societal norm in the target culture
COMP 2.3 – Compare and contrast authentic materials from the target culture with the learner's culture.
NCSSFL-ACTFL Can-Do Statements:
I can provide a reason as to why I wasn't able to attend an event when speaking to a friend
I can talk to a friend about an event I attended and what I did there
I can reject an invitation politely.
Warm-Up
Begin by introducing the

Can-Dos

for today's activity. Display the

Google Slideshow

that will prompt each section of the activity.
Hola, ¿cómo están? Estoy ____. Vamos a empezar el lab de hoy con los can-do statements. 


Hoy vamos a charlar sobre diferentes celebraciones y tradiciones. Vamos a hablar sobre diferentes días festivos, como la Navidad o el Día de los Muertos. Vamos a comparar las tradiciones del mundo hispanohablante con las nuestras. ¡También vamos a practicar como decir porque no pudiste ir a un evento!

On the slideshow, there is a section of images. The students will give an explanation as to why they couldn't attend an event based on the image.


Para el calentamiento, voy a presentarles una variedad de fotos. Vamos a charlar y practicar como explicar porque no pudimos ir a un evento usando las fotos para ayudar. ¡Es importante saber cómo explicar porque no pudimos ir porque a veces no podemos o simplemente no queremos ir!" Por ejemplo: "No pude ir porque estuve muy enferma/o."
Main Activity
There will be a variety of questions embedded in the google slideshow that the group will get to talk about. Some of the questions have some background information right before that compare the topic to Spanish-speaking countries that you will explain to students. Not all students have to answer each question but do try to get them to participate and explain their answers as best they can.
Para nuestra actividad principal, vamos a charlar sobre una variedad de preguntas. Hay algunas preguntas dónde voy a darles un poco de información interesante sobre países hispanohablantes y después vamos a contestar preguntas relacionadas a esos temas pero con nuestras propias opiniones. ¡La meta para esta actividad es participar, entonces deben explicar sus respuestas! 

Wrap-Up

Conclude the lab with the following wrap-up questions:
¿Qué día(s) festivo(s) no les gusta(n)? 

(What holidays do you not like?)


¿Ustedes conocen otras tradiciones interesantes para diferentes celebraciones? 

(Do you know other interesting traditions for different celebrations?)

End of Lab
Read

Can-Do statements

once more and have students evaluate their confidence.
(Use thumbs up/thumbs down or download our student cards)
Encourage students to be honest in their self-evaluation.
Pay attention, and try to use feedback for future labs!
NCSSFL-ACTFL Can-Do Statements:
I can provide a reason as to why I wasn't able to attend an event when speaking to a friend
I can talk to a friend about an event I attended and what I did there
I can reject an invitation politely.
Cultural NOtes: 
How to Revise or Remix a Pathways Project Activity
Feeling creative?  The Pathways Project needs your help in revising and remixing activities for the K-16 language classroom.
Try taking an activity to the next level by:
Add new content (something you've created or another OER source)
Contribute additional activity suggestions
Integrate authentic materials such as videos, infographics, photos, etc.
Suggest how to implement the activity in the classroom
Customize the content for a specific audience or group of learners (for example, K-5 learners or to differentiate for student's needs)