Spanish Level 2, Activity 06: Mis ingredientes y comidas favoritas / My Favorite Ingredients and Foods (Face-to-Face)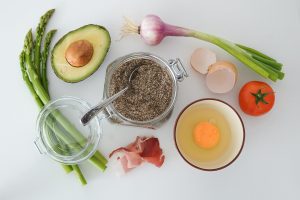 Description: In this activity, students will survey one another to determine how much their classmates like or dislike certain foods. During the main activity, they will practice asking one another questions regarding food. Students will also begin to discuss their preferences for local stores and restaurants.
Semantic Topics: 
Ingredients, foods, survey, restaurant, preferences, likes, dislikes, ingredientes, comida,encuesta, restaurante, preferencias, me gusta, no me gusta
Grammatical Structures: Verbs like gustar, verbos como gustar
Products: Variety of food ingredients common in dishes across the world
Practices: Shopping for food, going out to eat
Perspectives: What makes an ingredient popular or unpopular?
NCSSFL-ACTFL World-Readiness Standards:
Standard 1.1 Students engage in conversations, provide and obtain information, express feelings and emotions, and exchange opinions.
Standard 1.2 Students understand and interpret spoken and written Spanish on a variety of topics.
Standard 1.3 Students present information, concepts, and ideas in Spanish to an audience of listeners or readers on a variety of topics.
Idaho State Content Standards:
COMM 1.1 – Interact and negotiate meaning (spoken, signed, written conversation) to share information, reactions, feelings, and opinions
COMM 2.1 – Understand, interpret, and analyze what is heard, read, or viewed on a variety of topics.
COMM 3.1 – Present information, concepts, and ideas to inform, explain, persuade, and narrate on a variety of topics using appropriate media in the target language.
NCSSFL-ACTFL Can-Do Statements:
I can describe popular foods without using buzzwords
I can compare and contrast my food preferences with friends
I can discuss how frequently I eat or visit a restaurant
Vis-A-Vis Markers (erasable whiteboard markers) & Erasers
Optional Physical Materials
Would you like to make changes to the materials? Access the template(s) below:
Warm-Up
Begin by opening the

Google Slideshow

and introducing the

Can-Do Statements.


Hola, ¿cómo están? Estoy ____. Vamos a empezar el lab de hoy con los can-do statements.

Have students scan the QR code or give a student a

Taboo Card

if using physical materials. The student has to describe the food on the card to the group, without saying the words on the card.
Hoy vamos a jugar un juego. El estudiante tiene que describir la comida que está en la tarjeta, pero no puede decir las palabras que están escritas ahí.
The whole group has to guess the item the student is describing. If they guess it, then they get a point!
El grupo tiene que adivinar (guess) la comida que el estudiante está describiendo. La persona que adivina la comida gana un punto!
Main Activity
Give each student a

Survey Card

, a 

marker,

 and an 

eraser

. Give them a minute to read the card.
Les voy a dar una tarjeta de encuesta. Cada tarjeta es diferente. Tomen un minuto para leerla.
Have the students fill in the empty categories on their lists.


Ahora llenen los espacios vacíos. Por ejemplo, si el espacio vacío dice fruta, deben escribir banana o manzana u otra fruta. Pero no usen una comida que ya está.

One student will ask their partner questions to find out about their likes/dislikes in an interview style, and then they will switch.
Ahora van a hacer una entrevista con los compañeros del lab para conocer sus preferencias de la comida.  Ejemplo: "

¿Te gusta _ _ _ _ ? // 

Si, me gusta _ _ _ _

Ask the following reflection questions


¿Cuál es una comida que a muchos estudiantes les gusta comer?

¿Cuál es una comida que a muchos estudiantes no les gusta comer?
Wrap-Up
Ask students a few questions to finish the lab:
¿Te gusta la comida que puedes encontrar en Boise State? ¿Por qué? 

(Do you like the food you can find in Boise State? Why?)

¿Te molesta ir al supermercado? ¿Por qué? 

(Does it bother you to go to the supermarket? Why?)

¿Te gusta comer en un restaurante? ¿Por qué? 

(Do you like to eat in restaurants? Why?)
End of Activity:
• Read Can-Do statements once more and have students evaluate their confidence.
(Use thumbs up/thumbs down or download our student cards)
• Encourage students to be honest in their self-evaluation.
• Pay attention, and try to use feedback for future labs!
NCSSFL-ACTFL Can-Do Statements:
I can describe popular foods without using buzzwords
I can compare and contrast my food preferences with friends
I can discuss how frequently I eat or visit a restaurant
CULTURAL NOTES: 
Top 10 ingredientes mexicanos – This article contains a list of the 10 most common ingredients in Mexican cuisine.
¿Cuáles son los ingredientes más comunes del mundo? – This article looks at over 40,000 recipes from around the world to find the most common ingredients in cooking. It is probably no surprise that cebolla y ajo are the most popular!
Las 10 comidas más ricas y populares del mundo– This article lists 10 of the most popular dishes around the world.
This video titled "Ingredientes para una historia. La cocina mexicana" is a full length documentary in Spanish that looks at the most popular ingredients for Mexican cooking such as corn, beans, avocados, tomatillos, and many more.
How to Remix a Pathways Project Activity
Feeling creative?  The Pathways Project needs your help in remixing activities for the K-12 classroom.
Try taking an activity to the next level by:
Add new content (something you've created or another OER source)
Contribute additional activity suggestions
Integrate authentic materials such as videos, infographics, photos, etc.
Suggest how to implement the activity in the classroom
Customize the content for a specific audience or group of learners (for example, K-5 learners or to differentiate for student's needs)
We want to make it easy to share back with the larger Pathways Project Community! Simply, click this link to remix this activity. Please consider sharing your remixed activity with us by emailing the activity link to Pathwaysproject@boisestate.edu so that Pathways continues to grow!
If this is your first time remixing, check out our

one minute tutorial

below: