Spanish Level 2- Activities Designed for Online Instruction
🍉 Spanish Level 2, Activity 06: Mis Ingredientes y Comidas Favoritas / My Favorite Ingredients and Foods (Online)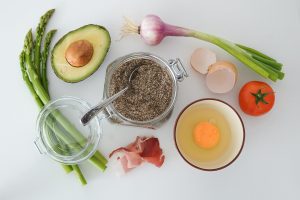 Description:
In this activity, students will survey one another to determine how much their classmates like/dislike certain foods. Students will learn to ask each other questions and answer questions regarding food. Students will also learn about discussing restaurants. 
Semantic Topics:
Ingredients, foods, survey, restaurant, references, likes, dislikes,
ingredientes, comida, encuesta, restaurantes, recomendaciones, gustar
Grammatical Structures: Verbs like gustar, verbos como gustar
Products: Variety of food ingredients common in dishes across the world
Practices: Shopping for food, going out to eat
Perspectives: What makes an ingredient popular or unpopular?
World-Readiness Standards:
Standard 1.1 – Students engage in conversations, provide and obtain information, express feelings and emotions, and exchange opinions.
Standard 1.2 – Students understand and interpret spoken and written Spanish on a variety of topics.
Standard 1.3 – Students present information, concepts, and ideas in Spanish to an audience of listeners or readers on a variety of topics.
Idaho State World Language Standards:
COMM 1.1 – Interact and negotiate meaning (spoken, signed, written conversation) to share information, reactions, feelings, and opinions
COMM 2.1 – Understand, interpret, and analyze what is heard, read, or viewed on a variety of topics.
COMM 3.1 – Present information, concepts, and ideas to inform, explain, persuade, and narrate on a variety of topics using appropriate media in the target language.
NCSSFL-ACTFL Can-Do Statements:
I can describe popular foods without using buzzwords
I can compare and contrast my food preferences with friends
I can discuss how frequently I eat or visit a restaurant
Warm Up
Begin by opening the

Google Slideshow

and introducing the

Can-Do Statements.


Hola, ¿cómo están? Estoy ____. Vamos a empezar el lab de hoy con los can-do statements. 

Share the student slideshow link with the students via the chat feature on Zoom. Tell them not to look at the slides yet. 


Por favor de abrir el enlace que he puesto en el "chat". Hoy vamos a jugar un juego de adivinar (guessing game).

¡No miren las diapositivas!

One student will begin the game by choosing a food from the slides and describing it to the rest of the class without using the words on the slide.




Una persona va a describir lo que está en la diapositiva, pero no puede decir/usar las palabras que están escritas ahí. Todas las diapositivas son una comida.

The whole group has to guess the item the student is describing.
Todo el grupo tiene que adivinar la comida que el estudiante está describiendo.
Once the slide is guessed, someone else in the group will take a turn describing the slide. Everyone in the group gets a turn describing a slide, but cannot look at the slides until it's their turn to describe.
Cuando adivinan la diapositiva le toca a otra persona en el grupo describir. Todos en el grupo necesita tener un turno describiendo, pero no pueden ver las diapositivas hasta que sea tu turno.
Main Activity
First, place the students into breakout rooms to work in pairs.
Ahora van a trabajar en parejas.
Students have to get a piece of paper or open a Google doc to draw a chart with labels at the top, the same as shown on the slideshow. Once they are done, have the students fill in the empty categories on their lists


Van a necesitar un papel, o pueden usar un google doc, y crear una tabla como la que esta en la diapositiva. Ahora llenen los espacios vacíos (empty) en sus papeles. Por ejemplo, si el espacio vacío dice fruta puedes escribir banana o manzana u otra fruta.

 
After they are done writing, have them ask their partner if they like the fruit, vegetable, etc. Their partner needs to answer it using the phrases me gusta, me encanta, or no me gusta.
Cuando están listos van a turnarse (take turns) preguntando si le gusta la fruta, el vegetal, etc, que llenaron en el espacio vacío. Tienen que contestar usando la frase

me gusta

,

me encanta

, o

no me gusta

.
Por Ejemplo: Estudiante 1: ¿Te gusta la manzana? // Estudiante 2 : Me encanta la manzana
Wrap Up
Ask students a few questions to finish the lab:
Para terminar: 
¿Te gusta la comida que puedes encontrar en Boise State? ¿Por qué? 

(Do you like the food Boise State offers? Why?)

¿Te molesta ir al supermercado? ¿Por qué? 

(Does it bother you to go to the supermarket? Why?)

¿Te gusta comer en un restaurante? ¿Por qué?

 

(Do you like eating at a restaurant? Why?)
End of Lab
Does anyone have any questions about the lab?
Remind students that they have to come to the same collaborative session at the same time each week.
Remind students that the expectation is to speak in Spanish 100% of the time.
Can-Do Statements:
I can describe popular foods without using buzzwords
I can compare and contrast my food preferences with friends
I can discuss how frequently I eat or visit a restaurant
CULTURAL NOTES: 
Top 10 ingredientes mexicanos – This article contains a list of the 10 most common ingredients in Mexican cuisine.
¿Cuáles son los ingredientes más comunes del mundo? – This article looks at over 40,000 recipes from around the world to find the most common ingredients in cooking. It is probably no surprise that cebolla y ajo are the most popular!
Las 10 comidas más ricas y populares del mundo– This article lists 10 of the most popular dishes around the world.
This video titled "Ingredientes para una historia. La cocina mexicana" is a full length documentary in Spanish that looks at the most popular ingredients for Mexican cooking such as corn, beans, avocados, tomatillos, and many more.
How to Revise or Remix a Pathways Project Activity
Feeling creative?  The Pathways Project needs your help in revising and remixing activities for the K-16 language classroom.
Try taking an activity to the next level by:
Add new content (something you've created or another OER source)
Contribute additional activity suggestions
Integrate authentic materials such as videos, infographics, photos, etc.
Suggest how to implement the activity in the classroom
Customize the content for a specific audience or group of learners (for example, K-5 learners or to differentiate for student's needs)