Spanish Level 1, Activity 08: La Subasta / The Auction (Online)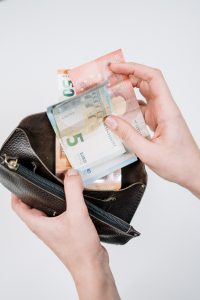 Description: This activity will help to familiarize students with other types of currency in Spanish-speaking countries. Students will practice using numbers in Spanish and will use adjectives to describe items that they can sell and buy as they participate in an auction.
Semantic Topics: Shopping, numbers, cost, selling, buying, auction, de compras, números, cuesta, vender, comprar, subasta
Grammatical Structures: Adjectives, numbers, adjetivos, números
Products: Pesos, physical money from Spanish-speaking countries (see Cultural Notes)
Practices: Describing objects, participating in an auction
World-Readiness Standards:
Standard 1.1 – Students engage in conversations, provide and obtain information, express feelings and emotions, and exchange opinions.
Standard 1.2 – Students understand and interpret spoken and written Spanish on a variety of topics.
Standard 1.3 – Students present information, concepts, and ideas in Spanish to an audience of listeners or readers on a variety of topics.
Standard 4.2 – Students demonstrate understanding of the concept of culture through comparisons between Hispanic cultures and their own.
Idaho Content Standards for World Languages:
COMM 1.1 – Interact and negotiate meaning (spoken, signed, written conversation) to share information, reactions, feelings, and opinions.
COMM 1.2 – Explain the relationship between cultural practices/behaviors and the perspectives that represent the target culture's view of the world.
NCSSFL-ACTFL Can-Do Statements:
I can ask and understand how much something costs.
I can talk about and describe a variety of objects
I can purchase and sell objects.
I can identify, buy, and sell products from my own country and Spanish-speaking countries.
Warm Up
Materials Needed for Warm Up
Begin by opening the Google Slideshow and introducing the

Can-Do Statements

.
Hola, ¿cómo están? Estoy ____. Vamos a empezar el lab de hoy con los can-do statements.
Then introduce today's activity in Spanish and ask students to guess the meaning of 'subasta.'
Nuestra actividad de hoy es una subasta. ¿Alguien sabe qué es una subasta? Voy a dar tres pistas. Las pistas ayudan a describir "subasta,"¿Qué es una pista en inglés? ("Pista" is "clue").
Tell the students: "We are going to have an auction! You will have the opportunity to buy and sell interesting things today."
Hoy vamos a tener una subasta! (auction) Cada estudiante va a tener la oporunidad para comprar y vender (gesture giving and receiving money) cosas muy interesantes!
Explain what "vender" means in Spanish before telling students the English translation. Try to describe it in a way that allows students to guess its meaning on their own. Knowing that "vender" is "to buy" in Spanish will be helpful for students as they participate in the lab activities.
Antes de comenzar, vamos a repasar el verbo "vender." ¿Qué significa "vender?" Vender es cuando una persona da una cosa para el dinero.
Have the students read over the instruction card for two minutes.
Tienen dos minutos para leer la tarjeta de instrucciones y después vamos a hacer la subasta.
Main Activity
Materials Needed for Main Activity
The auction will have 3 rounds. During each round, each student will be responsible for buying AT LEAST ONE item.
La "subasta" tendrá 3 rondas. Durante cada ronda, cada estudiante tiene que comprar como mínimo una cosa.
A student will start by naming an item and its starting price. The other students will yell out prices they are willing to pay for the item until the amount becomes too high and there is only one person left willing to bid that amount.
Un estudiante va a describir el objeto y su precio. Los otros estudiantes van a gritar el precio que quieren pagar por la cosa hasta que el precio sea demasiado alto y  solamente haya una persona que quiera pagar el precio.
The person who wins the bid will go next and have a chance to sell an item. This will keep going until all items have been sold or time runs out.
La persona que gana la oferta empezará a vender otro objeto. Vamos hacer esto hasta que todos vendan sus objetos.
Wrap Up
Ask the following questions as a wrap up:
¿Quieres comprar algunas de estas cosas en la vida real? 

(Do you want to buy any of these things in real life?)

En tu opinión ¿Cuál es el objeto más caro? 

(

In your opinion, what object is the most expensive?)

¿Quieres ir a la subasta en la vida real? 

(Do you want to go to an auction in real life?)
End of Lab
Read can-do statements and have students evaluate their confidence with cards
Encourage students to be honest in their self-evaluation
Pay attention, and try to use feedback for future labs!
Can-Do Statements:
I can ask and understand how much something costs.
I can talk about and describe a variety of objects
I can purchase and sell objects.
I can identify, buy, and sell products from my own country and Spanish-speaking countries.
Cultural NOtes: 
How to Remix a Pathways Project Activity
Feeling creative?  The Pathways Project needs your help in remixing activities for the K-12 classroom.
Try taking an activity to the next level by:
Add new content (something you've created or another OER source)
Contribute additional activity suggestions
Integrate authentic materials such as videos, infographics, photos, etc.
Suggest how to implement the activity in the classroom
Customize the content for a specific audience or group of learners (for example, K-5 learners or to differentiate for student's needs)
We want to make it easy to share back with the larger Pathways Project Community! Simply, click this link to remix this activity. Please consider sharing your remixed activity with us by emailing the activity link to Pathwaysproject@boisestate.edu so that Pathways continues to grow!
If this is your first time remixing, check out our

one minute tutorial

below: