Première Partie: Le portrait physique, Explication de grammaire

In this section:
les couleurs et les adjectifs
les pronoms non-binaires
le portrait physique – avoir
les couleurs et les adjectifs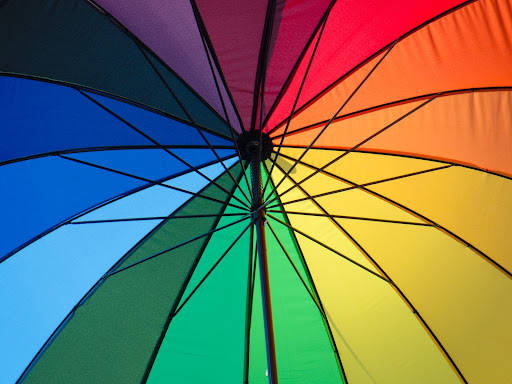 les couleurs (f)

blanc / blanche

bleu / bleue

gris / grise

jaune

marron (invariable)

noir / noire

orange (invariable)

rouge

vert / verte

violet / violette

colors

white

blue

gray

yellow

brown

black

orange

red

green

purple
les pronoms non-binaires
Vocabulaire LGBT+ en français
Identités et expression de genre et sexualité
agenre – agender
androgyne – androgynous
aromantique – aromantic
asexuel·le – asexual
bigenre – bigender
bisexuel·le – bisexual
cisgenre – cisgender
demifille – demigirl
demigarçon – demiboy
demisexuel·le – demisexual
féminin·e – feminine
gay / gai – gay
genre fluide / genderfluid – genderfluid
genderqueer – genderqueer
genre neutre – gender neutral
l'identité (f) de genre – gender identity
intersexe – intersex
hétérosexuel·le / hétéro – heterosexual
lesbien·ne – lesbian
masculin·e – masculine
non-binaire – non-binary
l'orientation sexuelle – sexual orientation
pangenre – pangender
pansexuel·le – pansexual
une personne trans – a trans person
queer – queer
en questionnement – questioning
transgenre / trans – transgender
Actions
s'identifier comme – to identify as
manifester, militer (pour) – to protest, advocate (for)
porter un binder – to wear a binder
se questionner sur le genre – to question one's gender
sortir du placard, faire son coming-out – to come out
suivre une hormonothérapie – to take hormone therapy
transitionner – to transition
La société
la communauté LGBT/queer – the LGBT/queer community
les droits (m) – rights
genre neutre – gender-neutral
hétéronormatif/ve – heteronormative
l'hétéronormativité (f) – heteronormativity
homophobe – homophobic
l'homophobie (f) – homophobia
le langage neutre – gender-neutral language
les lois (f) – laws
mégenrer – to misgender
un·e militant·e – an activist
les normes (f) – norms
le patriarcat – the patriarchy
le sexisme – sexism
un spectre – a spectrum
la transphobie – transphobia
transphobe – transphobic
Phrases
Tu t'identifies comment?

Je m'identifie comme… / Je suis…

Quel est ton pronom? / Tu utilises quel pronom ?

Mon pronom est… / J'utilise le(s) pronom(s)…
Le français non-binaire
Nouns: How to call people
Nouns that carry a gender unrelated to the person they designate:
la personne – the person
l'individu – the individual
le personnage – the character
Ex: Alex est un individu non-binaire et pansexuel.
Son ami·e, Kyle, est une personne genderqueer et bisexuelle.
Nouns that stay the same regardless of gender:
ado – teenager
jeune – young person
enfant – child
élève – student
adulte – adult
partenaire – (work) partner
collègue – colleague
athlète – athlete
touriste – tourist
Words to describe people and relationships
| | | | |
| --- | --- | --- | --- |
| | m | f | nb |
| child | fils | fille | enfant |
| sibling | frère | sœur | *frœur, adelphe |
| friend | ami | amie | ami·e |
| partner | petit-ami | petite-amie | petit·e-ami·e |
* marks non-traditional words and uses – you won't find these in a dictionary (yet).
Adjectives: How to describe people
Here are some adjectives that don't change based on gender :
adorable – adorable
agréable – pleasant
aimable – likable
calme – calm
désagréable – unpleasant
dynamique – dynamic
énergique – energetic
lunatique – moody
pauvre – poor
riche – rich
sage – wise, well-behaved
sympathique/sympa – nice
timide – shy
Punctuated forms using the middot (point médian), dash, or period are often used in inclusive written French to suggest gender neutrality: for example, les étudiant·e·s can include students of all genders.  These forms are widely understood.
Example: Sam est fatigué·e / fatigué.e / fatigué-e.
New, alternative endings for gender-neutral forms are suggested in the table below.  These are recommended by a Québecois organization for trans inclusion, Fondation Émergence:
le portrait physique – avoir
In French, there are two main verbs used to describe someone's physical attributes. You may use "être" – to be – to describe how they are, or use the verb avoir – to have – to describe certain features.
Elle est blonde – using "être". Notice the adjective "blond" agrees with the person's gender here.
or
Elle a les cheveux blonds – using "avoir".  The adjective "blond" agrees with the noun it's describing – cheveux (hairs) are plural and masculin.
le portrait physique

Quelle est votre taille (f)?

Je fais 1 m. 60.

de taille moyenne

Combien pesez-vous?

Je fais 55 kilos.

maigre

mince

De quelle couleur sont vos cheveux?

J'ai les cheveux blonds / bruns / châtain (invariable) / roux.

Il est… Elle est…

blond. blonde.

brun. brune.

roux. rousse.

Comment est-il coiffé?

Il a les cheveux longs / courts / bouclés / raides.

De quelle couleur sont vos yeux?

J'ai les yeux marron.

Quelle est la forme de son visage?

Il a le visage carré / long / rond.

Il a le nez retroussé / pointu.

Il a de grandes oreilles.

Il/Elle a…

des lunettes (f)

une cicatrice

un piercing

un tatouage

physical description

What's your height?

I'm one meter 60.

of medium height

How much do you weigh?

I weigh 55 kilos.

thin, skinny

thin, slender

What color is your hair?

I have blond / brown / light brown,

He is… She is…

a blond.

a brunette.

chestnut / red hair

What is his hair like?

He has long / short / curly / straight hair.

What color are your eyes?

I have brown eyes.

What's the shape of his face?

He has a square / long / round face.

He has a snub / pointed nose.

He has big ears.

He/She has…

glasses

scar

body piercing

tattoo