German Level 1, Activity 08: Zeit / Time (Online)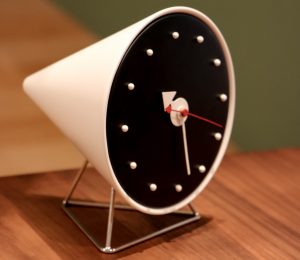 Description: Students will practice telling the time from visual and verbal cues. They will also practice responding to situations with separable prefix verbs.
Semantic topic: time, zeit, plans, pläne, clock, watch, uhr, second, sekunde, hour, stunde, minutes, minuten.
Products: Clocks, Uhren.
Practices: Telling the time as speakers of German tell the time.  Die Zeit sagen, wie die Deutschsprachige die Zeit sagen. Understanding the German phrasing of time. Verstehe die deutsche Zeitformulierung.
Perspectives: The concept of time and the cultural concept of timeliness is important in German speaking countries.  Der Begriff der Zeit und der kulturelle Begriff der Aktualität sind im deutschsprachigen Raum wichtig.
NCSSFL-ACTFL World-Readiness Standards:
STANDARD 1.1 Students engage in conversations, provide and obtain information, express feelings and emotions, and exchange opinions.
STANDARD 1.2 Students understand and interpret written and spoken language on a variety of topics.
STANDARD 2.1 Students demonstrate an understanding of the relationship between the practices and perspectives of the culture studied.
Idaho State Content Standards:
Objective: COMM 1.1: Interact and negotiate meaning (spoken, signed, written conversation) to share information, reactions, feelings, and opinions.
Objective: COMM 2.1: Understand, interpret, and analyze what is heard, read, or viewed on a variety of topics.
Objective: CLTR 1.3: Function appropriately in diverse contexts within the target culture.
NCSSFL-ACTFL Can-Do Statements:
I can understand the time when announced or shown to me.
I can identify movies and the times they take place on a schedule.
I can use simple information from someone's schedule to make a recommendation.
Would you like to make changes to the materials? Access the template(s) below:
(Canva Template(s), free account)
Warm Up
Practice telling time
1. What time is it?
2. Students will practice telling time.
Die Studenten werden versuchen die Zeit zu sagen.

Es ist (drei) Uhr. Wie spät ist es? (students write the time in the Chat)

Wie spät ist es?

(students verbally respond)
3. Make sure that students are using the correct format for a time, and challenge them to use the more colloquial terms as well such as "quarter past…." or "half before…" In order to do this, when students tell the instructor the time in the most basic form, ask them what another way to say it could be.
Sei sicher dass die Studenten die richtige Form von Zeit benutzen und fordere sie heraus die ungangssprachliche Art auch zu benutzen. Um das zu erreichen, fragen sie die Studenten wie man das anders sagen könnte, wenn sie nur die einfache Art sagen.

3:00 – Drei Uhr

13:00 – Dreizehn Uhr oder ein Uhr

2:30 – Zwei Uhr dreißig oder halb drei.
Main Activity
1  Put the students in partners in breakout rooms
Stellen sie die Studenten in Partnern in breakout rooms. 
2. Have one student from each breakout room access the "movie schedule" (from the Materials Needed Section) and have pen/pencil & paper available.
Lassen Sie einen Schüler aus jedem Breakout-Raum auf den "Filmplan" zugreifen (aus dem Abschnitt "Benötigte Materialien") und halten Sie Stift/Bleistift und Papier bereit.
3. Display the Google Presentation questions about movies.  Each slide for about 90 seconds.
Zeigen Sie die Google-Präsentation Fragen zu Filmen an. Jede Folie für etwa 90 Sekunden.
4.  They must find a movie that fits the situation.  Share the answer before moving on to the next slide.
Sie müssen einen Film finden, der zur Situation passt. Teilen Sie die Antwort, bevor Sie mit der nächsten Folie fortfahren.
Wrap-up
Ask students the following question to finish the activity:
Welchen Film möchtet ihr am liebsten sehen? 

(Which movie do you want to see the most?)
End of Activity:
Read can-do statements and have students evaluate their confidence. (Use thumbs up/thumbs down)
Encourage students to be honest in their self-evaluation.
Pay attention, ask questions, and try to use feedback for future activities!
NCSSFL-ACTFL Can-Do Statements:
I can understand the time when announced or shown to me.
I can identify movies and the times they take place on a schedule.
I can use simple information from someone's schedule to make a recommendation.
cultural Resources
Letzt und dies (last and this – time reference) are always accusative articles needing the accusative ending.   Here is a great extra video on telling time in German.  Second is a good how-to video about learning German though movies and TV shows.
How to Remix a Pathways Project Activity
Feeling creative?  The Pathways Project needs your help in remixing activities for the K-12 classroom.
Try taking an activity to the next level by:
Add new content (something you've created or another OER source)
Contribute additional activity suggestions
Integrate authentic materials such as videos, infographics, photos, etc.
Suggest how to implement the activity in the classroom
Customize the content for a specific audience or group of learners (for example, K-5 learners or to differentiate for student's needs)
We want to make it easy to share back with the larger Pathways Project Community! Simply, click this link to remix this activity.
Please consider sharing your remixed activity with us by emailing the activity link to Pathwaysproject@boisestate.edu so that Pathways continues to grow!
If this is your first time remixing, check out our

one minute tutorial

below: