German Level 2, Activity 01: Einführungstag / Orientation Day (Online)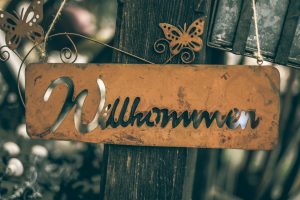 Description:  Students will introduce themselves and get to know one another by asking and answering questions about personal preferences.
Semantic Topics:  Introduction, Einführung, Questions, Fragen, Hometown, Heimatort, Collage, University, Universität, Preferences, Vorlieben, who, what, where, when, why, how, wer, was, wo, wann, warum, wie.
Products: German words, phrases, and sentences.  Deutsche Wörter, Phrasen und Sätze.
Practices: Introducing yourself and learning about others in the classroom. Sich vorstellen und über andere im Klassenzimmer lernen.
Perspectives: Friendly learning environments are key to successfully learning a foreign language. Freundliche Lernumgebungen sind der Schlüssel zum erfolgreichen Erlernen einer Fremdsprache.
NCSSFL-ACTFL World-Readiness Standards:
Standard 1.1 Students engage in conversations, provide and obtain information, express feelings and emotions, and exchange opinions.
Standard 1.2 Students understand and interpret spoken and written language on a variety of topics.
Idaho State Content Standards: 
Objective: COMM 1.1- Interact and negotiate meaning (spoken, signed, written conversation) to share information, reactions, feelings, and opinions.
Objective: COMM 2.1- Understand, interpret, and analyze what is heard, read, or viewed on a variety of topics.
NCSSFL-ACTFL Can-Do Statements:
I can introduce and describe myself to others.
I can ask and answer questions about preferences.
Warm-up
Introductions
Anweisungen 
1. Introduce yourself using the picture collage to aid understanding (collage optional).
Stellen Sie sich mit der Bildcollage vor, um das Verständnis zu verbessern (Collage optional).
2. Go around the group and have each student introduce themselves.
Gehen Sie durch die Gruppe und lassen Sie jeden Schüler sich vorstellen.
Main Activity
One Word
Ein Wort
1. Students will play the game "one word." The rule is that they can only use one word to answer the question.
Die Schüler werden das Spiel "ein Wort" spielen. Die Regel ist, dass sie nur ein Wort verwenden können, um die Frage zu beantworten.
Today we will play One Word. I will ask you many questions, and you will answer. But you can only answer with one word!
Heute spielen wir Ein Wort. Ich werde euch viele Fragen fragen, und ihr antwortet. Aber ihr könnt mit nur ein Wort antworten!
2. They can type their answers in the chat and then say them out loud to the group.
Erst tippt deine Antwort in dem Chat und dann sagt jeder sein Wort.
3. Students can also practice asking each other the questions using the cards provided, or the instructor can use the questions below.
Die Schüler können auch üben, sich gegenseitig die Fragen mit den bereitgestellten Karten zu stellen, oder der Lehrer kann die folgenden Fragen verwenden.
Was ist eure Lieblingsfarbe? (What is your favorite color?)
Was ist euer Lieblingsrestaurant in Boise? (What is your favorite restaurant?)
Woher kommt ihr? (Where are you from?)
Was ist euer Lieblingssport? (What is your favorite sport?)
Wie alt seid ihr? (How old are you?)
Um welche Uhrzeit steht ihr auf? (What time do you get up in the morning?)
Wie viele Geschwister habt ihr? (How many siblings do you have?)
Was ist eure Lieblingsessen? (What is your favorite food?)
Was ist euer Lieblingsgetränk? (What is your favorite drink?)
Was ist euer Lieblingskurs? (What is your favorite class?)
Was studiert ihr? (What are you studying?)
Wer ist eure Lieblingsmusiker/in? (Who is your favorite music artist?)
Was macht ihr gerne in eurer Freitzeit? (What do you like to do in your free time?)
Wohin reist ihr gerne? (Where do you like to travel?)
Habt ihr ein Haustier? Ja? Was? (Do you have a pet?)
Was esst ihr zum frühstück? (What do you eat for breakfast?)
Was ist euer Lieblingsfilm? (What is your favorite movie?)
Wrap-up
Have the students share one goal for the upcoming semester.
Lassen Sie die Schüler ein Ziel für das kommende Semester teilen.
End of Activity
Read Can-Do statements once more and have students evaluate their confidence. (Use thumbs up/thumbs down)
Encourage students to be honest in their self-evaluation.
Pay attention, and try to use feedback for future activities!
NCSSFL-ACTFL Can-Do Statements:
I can introduce and describe myself to others.
I can ask and answer questions about preferences.
Cultural Resources
Linked here is an article discussing the importance of creating some stress free environments during language learning.  As a helpful reminder for students, this article will be linked in the Cultural Notes section in the first activity of each section. https://languagelearnersjournal.com/2018/05/14/is-stress-impacting-your-language-learning-ability/.    Below is a fun video from Easy German What's Your Favorite German Word.
How to Remix a Pathways Project Activity
Feeling creative?  The Pathways Project needs your help in remixing activities for the K-12 classroom.
Try taking an activity to the next level by:
Add new content (something you've created or another OER source)
Contribute additional activity suggestions
Integrate authentic materials such as videos, infographics, photos, etc.
Suggest how to implement the activity in the classroom
Customize the content for a specific audience or group of learners (for example, K-5 learners or to differentiate for student's needs)
We want to make it easy to share back with the larger Pathways Project Community! Simply, click this link to remix this activity.
Please consider sharing your remixed activity with us by emailing the activity link to Pathwaysproject@boisestate.edu so that Pathways continues to grow!
If this is your first time remixing, check out our

one minute tutorial

below: