German Level 3, Activity #09: Soziale Medien und Technologie / Social Media and Technology (Online)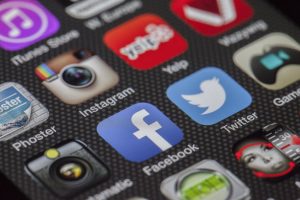 Description: Students will practice exchanging opinions on certain topics related to social media and technology.
Semantic Topics: Social Media, Soziale Medien, Technology, Technologie, Online, Video Games, Videospiele, Preference,  Superlatives, Präferenz, Superlative.
Products:  Technology Cards,  Technologiekarten.
Practices:  Technology use in today's world discussed in German.  Technologieeinsatz in der heutigen Welt auf Deutsch diskutiert.
Perspectives: The value and the problems that come with using modern technology.  Der Wert und die Probleme, die mit der Verwendung moderner Technologie einhergehen.
NCSSFL-ACTFL World-Readiness Standards:

Standard 1.1: Students engage in conversations, provide and obtain information, express feelings and emotions, and exchange opinions.
Standard 1.2: Students understand and interpret written and spoken language on a variety of topics.
Idaho Content Standards for World Languages:
Objective: COMM 1.1 Interact and negotiate meaning (spoken, signed, written conversation) to share information, reactions, feelings, and opinions.
Objective: COMM 2.1 Understand, interpret, and analyze what is heard, read, or viewed on a variety of topics.
NCSSFL-ACTFL Can-Do Statements:
I can talk about technology.
I can talk about a movie or television show that I like.
I can give my opinion and explain why I think this way about a topic.
Warm-Up
Discuss the Can-Do Statements with the students
Ask the students the following questions:
Stellen Sie den Schülern folgende Fragen:
1. Which social media do you have?
Welche sozialen Netzwerke hast du?
2. What kinds of technology do you use?
Welche Technik nutzt du?
3. Do you like Apple or Android more?
Magst du lieber Apple oder Android?
Main Activity
Students must explain their stance on each topic.
Die Schüler müssen ihre Haltung zu jedem Thema erklären.
Ask the students whether they agree or disagree with the following statements:
Fragen Sie die Schüler, ob sie den folgenden Aussagen zustimmen oder nicht zustimmen:
Social media can be addictive.

Soziale Netzwerke kann man süchtig machen. 

Robots will help us.

Roboter werden uns helfen.

Which film genre is better? Comedy, horror, drama, or action?

Welches Filmgenre ist besser? Komödie, Horror, Drama, Aktion.

Which video game is better? Wii, Playstation, X-Box, or Nintendo Switch.

Welches Videospiel ist besser? Wii, Playstation, X-Box, oder Nintendo Switch.
Wrap-Up
Discuss the pros and cons of using social media.
Diskutieren Sie die Vor- und Nachteile der Nutzung von Social Media.
End of Activity
Read Can-Do statements once more and have students evaluate their confidence.
(Use thumbs up/thumbs down)
Encourage students to be honest in their self-evaluation.
Pay attention, and try to use feedback for future activities!
NCSSFL-ACTFL Can-Do Statements:
I can talk about technology.
I can talk about a movie or television show that I like.
I can give my opinion and explain why I think this way about a topic.
How to Remix a Pathways Project Activity
Feeling creative?  The Pathways Project needs your help in remixing activities for the K-12 classroom.
Try taking an activity to the next level by:
Add new content (something you've created or another OER source)
Contribute additional activity suggestions
Integrate authentic materials such as videos, infographics, photos, etc.
Suggest how to implement the activity in the classroom
Customize the content for a specific audience or group of learners (for example, K-5 learners or to differentiate for student's needs)
We want to make it easy to share back with the larger Pathways Project Community! Simply, click this link to remix this activity. Please consider sharing your remixed activity with us by emailing the activity link to Pathwaysproject@boisestate.edu so that Pathways continues to grow!
If this is your first time remixing, check out our

one minute tutorial

below: