German Level 2, Activity 13: Eine Reise durch Berlin / A Trip Through Berlin (Online)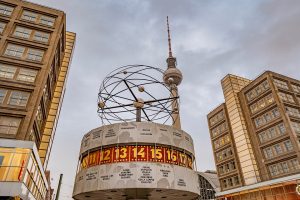 Description: In this activity, students discuss  the history and culture of Germany.
Semantic Topic: German History, Deutsche Geschichte, Culture, Kultur, Directions, Wegweisung, Commands, Befehle.
Products: Map of Berlin from the Google Slide show.  Karte von Berlin aus der Google Slideshow.
Practices: The students play a travel guide with Google Maps, where they go from sight to sight and discuss every sight in Berlin.  Die Schüler spielen einen Reiseführer mit Google Maps, wo sie gehen von Sehenswürdigkeit zu Sehenswürdigkeit und diskutieren jede Sehenswürdigkeit in Berlin.
Perspectives: The importance of being able to read a map from a foreign city and getting around in that city.  Wie wichtig es ist, eine Karte einer fremden Stadt zu lesen und sich in dieser Stadt fortzubewegen.  Valuing the cultural significance of various tourist sights in Berlin.  Wertschätzung der kulturellen Bedeutung verschiedener Sehenswürdigkeiten in Berlin.
NCSSFL-ACTFL World-Readiness Standards:
Standard: 1.1 Students engage in conversations, provide and obtain information, express feelings and emotions, and exchange opinions.
Standard: 1.2 Students understand and interpret spoken and written language on a variety of topics.
Standard: 3.1 Students reinforce and further their knowledge of other disciplines through German.
Idaho State Content Standards:
Objective: COMM 1.1 Interact and negotiate meaning (spoken, signed, written conversation) to share information, reactions, feelings, and opinions.
Objective: COMM. 2.1 Understand, interpret, and analyze what is heard, read, or viewed on a variety of topics.
Objective: CONN 1.2 Relate information studied in other subjects to the target language and culture.
NCSSFL-ACTFL Can-Do Statements: 
I can give simple directions.
I can recognize and speak a little about monuments.
I can talk about historical events.
I can understand and talk about culture.
Warm-Up
Read through the Can-Do Statements.
Lesen Sie die Can-Do-Statements durch.
Giving directions. You will read the sentence and the students will choose the picture that best matches.
Wegbeschreibung geben. Sie werden den Satz lesen und die Schüler werden das Bild auswählen, das am besten passt.
Die Apartments befinden sich auf der rechten Seit des Flusses. (The Apartments are on the right side of the river.)
Sie sollen links abbiegen. (You should turn left.)
Gehen sie geradeaus. (Go straight ahead.)
Main Activity
A journey through Berlin
You are a tour guide and will be taking the students on a trip through Berlin to learn about German history and culture. The students will give directions to each destination. Feel free to mention anything noteworthy that is on the way to another destination.
Sie sind Reiseleiter und nehmen die Schüler mit auf eine Reise durch Berlin, um mehr über die deutsche Geschichte und Kultur zu erfahren. Die Schüler geben Wegbeschreibungen zu jedem Ziel. Fühlen Sie sich frei, alles Bemerkenswerte zu erwähnen, das auf dem Weg zu einem anderen Ziel ist.
Tour beginnen (Informationen zu jedem Wahrzeichen finden Sie auf den Folien) (Begin Tour (information for each landmark is on the slides).)
1. Starting at the Hauptbahnhof, you will work your way through Berlin. Use the first map as an example by describing the way from the Hauptbahnhof to the Brandenburger Tor.
Vom Hauptbahnhof aus arbeiten Sie sich durch Berlin. Verwenden Sie die erste Karte als Beispiel, indem Sie den Weg vom Hauptbahnhof zum Brandenburger Tor beschreiben.
Brandenburger Tor

Frage: Wer kennt diese Sehenswürdigkeit?
Infos: 
Frage: Warum ist diese Sehenswürdigkeit so berühmt?

Denkmal für die ermordeten Juden Europas

Frage: Wer kennt dieses Denkmal?
Infos:
Frage: Welche Gefühle würdet ihr haben, wenn ihr durch dieses Denkmal gehen würdet?

Siegessäule

Frage: Wer kennt diese Sehenswürdigkeit?
Infos: 
Frage:

Museeninsel

Frage: Wer kennt diese Sehenswürdigkeit?
Infos:
Frage: Welche Museum würdet ihr besuchen? Warum?

East Side Gallery

Frage: Wer kennt diese Sehenswürdigkeit?
Infos:
Frage: Was macht diese Mauer besonders?
Wrap-Up
Ask students the following question(s) to finish the activity:
Wer war schon in Berlin? (Who has been to Berlin?)
Was haben die, die in Berlin waren, in Berlin gemacht? (What did those who were in Berlin do in Berlin?)
Was wollen diejenigen, die noch nicht in Berlin waren, in Berlin machen? (What do those who have not yet been to Berlin want to do in Berlin?)
End of Activity:
Read Can-Do statements once more and have students evaluate their confidence. (Use thumbs up/thumbs down)
Encourage students to be honest in their self-evaluation.
Pay attention, and try to use feedback for future activities!
NCSSFL-ACTFL Can-do Statement: 
I can give simple directions.
I can recognize and speak a little about monuments.
I can talk about historical events.
I can understand and talk about culture.
Cultural Resources
Here are two Easy German videos. The first is Berlin in One Word. The second is a fun video, What Berliners Dislike about Berlin.
How to Remix a Pathways Project Activity
Feeling creative?  The Pathways Project needs your help in remixing activities for the K-12 classroom.
Try taking an activity to the next level by:
Add new content (something you've created or another OER source)
Contribute additional activity suggestions
Integrate authentic materials such as videos, infographics, photos, etc.
Suggest how to implement the activity in the classroom
Customize the content for a specific audience or group of learners (for example, K-5 learners or to differentiate for student's needs)
We want to make it easy to share back with the larger Pathways Project Community! Simply, click this link to remix this activity.
Please consider sharing your remixed activity with us by emailing the activity link to Pathwaysproject@boisestate.edu so that Pathways continues to grow!
If this is your first time remixing, check out our

one minute tutorial

below: