German Level 2, Activity #13: Reisen / Travel (Face to Face)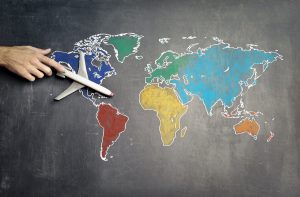 Description: Students use German to talk about living in Boise.  Students create activities for visitors to do in Boise. Students discuss previous travels.
Semantic Topics: Travel ,Reisen, Activities, Aktivitäten, Sightseeing, Sightseeing, Sehenswürdigkeiten, Conjunctions  Konjunktionen.
Products: People cards, knowledge of Boise, I-Pads or cell phones to look up Boise information.  Personenkarten, Boise-Kenntnisse, I-Pads oder Handys zum Nachschlagen von Boise-Informationen.
Practices: Learning about an person's likes and dislikes and planning a trip to Boise for this individual.  Erfahren Sie mehr über die Vorlieben und Abneigungen einer Person und planen Sie für diese Person eine Reise nach Boise.
Perspectives: Appreciating the preferences of others in activities to make their trip as comfortable as possible.  Wertschätzung der Vorlieben anderer bei Aktivitäten, um ihre Reise so angenehm wie möglich zu gestalten.
NCSSFL-ACTFL World-Readiness Standards:

Standard: 1.1  Students engage in conversations, provide and obtain information, express feelings and emotions, and exchange opinions.
Standard: 1.3  Students present information, concepts, and ideas to an audience of listeners or readers on a variety of topics.
Standard: 3.1  Students reinforce and further their knowledge of other disciplines through German.
Idaho Content Standards for World Languages:
Objective: COMM 1.1: Interact and negotiate meaning (spoken, signed, written conversation) to share information, reactions, feelings, and opinions.
Objective: COMM 2.1: Understand, interpret, and analyze what is heard, read, or viewed on a variety of topics.
Objective: COMM 3.2: Adapt presentation to various audiences of listeners, readers, or viewers..
NCSSFL-ACTFL Can-Do Statements:
I can plan a trip.
I can talk about travel details.
I can understand other people's preferences and plan accordingly.
Whiteboards
markers
iPads
Would you like to make changes to the materials? Access the template(s) below:
(Canva Template, free account required)
Warm-Up
Questions about where-to in Boise:
Fragen zum Zielort in Boise:
Where is the best place to eat in Boise?

Wo ist das beste Essen in Boise? 

Where is the best place to take a picture?

Wo kann man am besten ein Bild von Boise machen? 

Where is the best place to go for a walk?

Wo kann man am besten spazieren gehen?

Where is the best place to buy new clothes?

Wo kann man am besten neue Klamotten kaufen?

Where can you enjoy beautiful nature?

Wo kann man schöne Natur genießen?
Main Activity
1. Students divide up into pairs.
Schüler teilen sich in Paare auf.
2. Each pair receives a card with a description of a person on it that includes their name, where they are from, and details about their ideal trip.
Jedes Paar erhält eine Karte mit einer Beschreibung einer Person, die ihren Namen, ihre Herkunft und Details zu ihrer idealen Reise enthält.
3. The students then have to come up with activities for the person to do in Boise that fit the description provided.
Die Schüler müssen dann Aktivitäten für die Person in Boise ausdenken, die der bereitgestellten Beschreibung entsprechen.
4. They can use iPads if they need but should rely mostly on their own knowledge of Boise.
Sie können bei Bedarf iPads verwenden, sollten sich jedoch hauptsächlich auf ihre eigenen Kenntnisse in Boise verlassen.
5. The students should make sure to include where the person will be staying, what they will be doing, places that they will eat, and anything else and write it on the whiteboard.
Die Schüler sollten darauf achten, wo sich die Person aufhält, was sie tun wird, wo sie essen wird und alles andere und sie auf die Tafel schreiben.
6. The students then share with the group.
Die Schüler teilen sich dann mit der Gruppe.
Wrap-Up
1. What is your favorite trip you have taken?
Was war euer Lieblingsurlaub?
2. What are your favorite things to do in Boise?
Was macht ihr am liebsten in Boise?
3. Have you ever used a travel company to plan a vacation?
Habt ihr je eine Reise mit Hilfe einer Reisebüro geplant?
End of Activity
Read Can-Do statements once more and have students evaluate their confidence.
(Use thumbs up/thumbs down)
Encourage students to be honest in their self-evaluation.
Pay attention, and try to use feedback for future activities!
NCSSFL-ACTFL Can-Do Statements:
I can plan a trip.
I can talk about travel details.
I can understand other people's preferences and plan accordingly.
Cultural Notes:  Linked is an Easy German video, Joining Them on a Road Trip Travelling.
How to Remix a Pathways Project Activity
Feeling creative?  The Pathways Project needs your help in remixing activities for the K-12 classroom.
Try taking an activity to the next level by:
Add new content (something you've created or another OER source)
Contribute additional activity suggestions
Integrate authentic materials such as videos, infographics, photos, etc.
Suggest how to implement the activity in the classroom
Customize the content for a specific audience or group of learners (for example, K-5 learners or to differentiate for student's needs)
We want to make it easy to share back with the larger Pathways Project Community! Simply, click this link to remix this activity. Please consider sharing your remixed activity with us by emailing the activity link to Pathwaysproject@boisestate.edu so that Pathways continues to grow!
If this is your first time remixing, check out our

one minute tutorial

below: