German Level 1, Activity #13: Abschließende Prüfung / Final review (Online)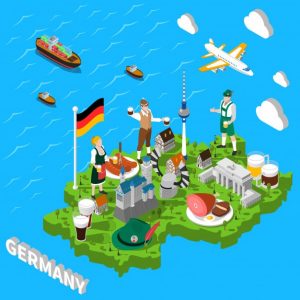 Description: Students will practice answering open-ended questions using vocabulary from the past chapters.
Semantic Topic: School, German, Clothing,Schedules,Food,Essen,Kleidung, Schule,Deutsch, Zeitpläne, Article Review, Der, Die, Das, Die,  Artikelbesprechung, Der, Die, Das, Die.
Products: Furniture, Möbel, Free-time Activities, Freizeitaktivitäten, Food, Lebensmittel, Clothing, Kleidung, Education, Ausbildung.
Practices: Discussing in German clothing, furnishings, eating, and free-time activities. Diskutieren in deutscher Kleidung, Einrichtung, Essen und Freizeitaktivitäten.
Perspectives: The German language has very specific rules and regulations about how a sentence should be structured.  Die deutsche Sprache hat sehr spezifische Regeln und Vorschriften für den Aufbau eines Satzes.
NCSSFL-ACTFL World-Readiness Standards:
STANDARD 1.1 Students engage in conversations, provide and obtain information, express feelings and emotions, and exchange opinions."
STANDARD 1.2 Students understand and interpret written and spoken language on a variety of topics."
STANDARD 2.1 Students demonstrate an understanding of the relationship between the practices and perspectives of the culture studied.
Idaho Content Standards for World Languages:
Objective: COMM 1.1: Interact and negotiate meaning (spoken, signed, written conversation) to share information, reactions, feelings, and opinions
Objective: COMM 2.1: Understand, interpret, and analyze what is heard, read, or viewed on a variety of topics.
Objective: CLTR 1.3: Function appropriately in diverse contexts within the target culture.
NCSSFL-ACTFL Can-Do Statements:
I can effectively use the vocabulary I have learned throughout the semester.
I can be interviewed in German and answer questions in detail.
I can speak German for an extended period of time.
Warm-Up
Practice with articles
Students have to guess the correct article that goes with the vocab word.
Schüler müssen den richtigen Artikel erraten, der zum Vokabelwort.
The cell phone
das Handy
The children

die Kinder

The man
der Mann
The game
das Spiel
The concert
das Konzert
The butter
die Butter
The suit
der Anzug
Main Activity
1. Using the Jeopardy game in the Google Presentation students will choose a topic and a certain value.
Mit dem Jeopardy-Spiel in der Google-Präsentation wählen die Schüler ein Thema und einen bestimmten Wert.
2. They will "roll a die" virtually. If they roll a number 1-3 they must answer the question. If they roll a number 4-6 they must ask someone else the question (that person would get the points if they answer correctly.)
Sie werden eine Wurfel werfen.  Wenn es auf eine Nummer von 1 bis 3 ländet müssen sie die Frage antworten. Wenn es auf eine Nummer von 4 bis 6 ländet müssen sie jemand anders die Frage stellen.
3. They will need to answer the question given. There is no wrong answer.
Sie müssen die Frage antworten. Es gibt keine falsche Antworten.
4. Questions:
What are you studying at the university?

Was studierst du an der Universität?

What time do you get up?…do you fall asleep?

Um wie viel Uhr stehst du auf? …schläfst du ein?

What did you do last weekend?

Was hast du letzte Wochenende gemacht?

What are you going to do next year?

Was hast du nächstes Jahr vor?

How big is your family?

Wie groß ist deine Familie?

What are your family members' names?

Wie heißen deine Familienmitglieder?

What help do you do in your household?

Was hilfts du in deiner Haushalt?

What do you do with your family?  Do you have any traditions?

Was machst du mit deiner Familie? Habt ihr Traditionen?

Name five colors.
What are you wearing today?
Describe your favorite piece of clothing.

Beschreib dein Lieblingskleidungsstück.

Describe a clothing trend?  What do you think of it?

Beschreibe eine Kleidung "Trend" Was denkst du davon?

What do you watn to eat for breakfast every morning?

Was willst du zum Frühstück jeden Tag essen?

Where di you buy your food?

Wo kaufst du dein Essen ein?

What is the worst food and why?

Was ist das schlimmste Essen und warum?

What is your favorite receipe?

Was ist dein Lieblingsrezept?

What do you normally do on the weekends?

Was machst du normalerweise am Wochenende?

What would do if you always had freetime?

Was würdest du machen, wenn du immer Freizeit hättest?

What do you do when you are bored?

Was machst du wenn du Langeweile hast?

You are rich.  What would you do in your freetime?

Du bist reich. Was würdest du in deiner Freizeit machen?
WRAP-UP
What are your summer plans?
Was machst du diesen Sommer?
End of Activity
Read can-do statements and have students evaluate their confidence with thumbs up/thumbs down.
Encourage students to be honest in their self-evaluation.
Pay attention, ask questions, and try to use feedback for future activities!
NCSSFL-ACTFL Can-Do Statements:
I can effectively use the vocabulary I have learned throughout the semester.
I can be interviewed in German and answer questions in detail.
I can speak German for an extended period of time.
Culture Notes:  Linked is a fun Easy German video about Small Talk in German speaking lands.
How to Remix a Pathways Project Activity
Feeling creative?  The Pathways Project needs your help in remixing activities for the K-12 classroom.
Try taking an activity to the next level by:
Add new content (something you've created or another OER source)
Contribute additional activity suggestions
Integrate authentic materials such as videos, infographics, photos, etc.
Suggest how to implement the activity in the classroom
Customize the content for a specific audience or group of learners (for example, K-5 learners or to differentiate for student's needs)
We want to make it easy to share back with the larger Pathways Project Community! Simply, click this link to remix this activity. Please consider sharing your remixed activity with us by emailing the activity link to Pathwaysproject@boisestate.edu so that Pathways continues to grow!
If this is your first time remixing, check out our

one minute tutorial

below: