German Level 4, Activity 06: Entsetzen und Angst / Horror and Fear (Face to Face)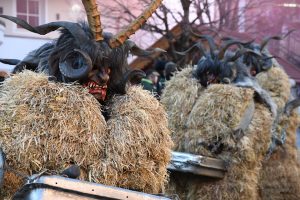 Description: Students discuss scary Halloween concepts, traditions, and plans.  Students learn about Krampus.
Semantic Topics: Horror, Angst, Scary, Krampus, Halloween, Traditions, Traditionen, Comparisons, Vergleiche, Adjectives, Adverbs, Adjektive, Adverben.
Products:  Video about Krampuslauf.  Video zum Krampuslauf.
Practices: The German tradition of Krampus.  Halloween celebrations in the United States.  Die deutsche Krampus-Tradition. Halloween-Feiern in den Vereinigten Staaten.
Perspectives:  Value attached to cultural traditions in the United States and cultural traditions in a German speaking country.  Wertschätzung kultureller Traditionen in den Vereinigten Staaten und kultureller Traditionen im deutschsprachigen Raum.
NCSSFL-ACTFL World-Readiness Standards:

Standard 4.1  Students demonstrate an understanding of the nature of language through comparisons between German and their own languages.
Standard 2.1  Students demonstrate an understanding of the relationship between the practices and perspectives of the culture studied.
Idaho State Content Standards:
Objective: CLTR 2.1  Analyze the significance of a product (art, music, literature, etc…) in a target culture.
Objective: COMM 3.1  Present information, concepts, and ideas to inform, explain, persuade, and narrate on a variety of topics using appropriate media in the target language.
NCSSFL-ACTFL Can-Do Statements:
I can exchange and respond to opinions about horror and the horror genre.
I can engage in discussion about my associations with horror.
I can understand symbols of horror in German-speaking countries.
Warm-Up
What do you associate with the expression "horror" and what do you not?
     Was assoziiert ihr mit dem Begriff "Horror" und was nicht?  
Tension, fear, laughter, thrill, entertainment, horror, joy, screams, joke, blood, violence, popcorn, couch / sofa, girls and boys, teenagers in the woods / in a hut, boredom, close eyes, panic, night, Halloween, to cling to someone, crying, joy, calm, serenity,
     Spannung, Angst, Lachen, Nervenkitzel, Unterhaltung, Grusel, Freude, Schreie, Witz, Blut, Gewalt, Popcorn, Couch/Sofa,  Mädchen und Junge, Teenager im Wald/ in einer Hütte, Langeweile, Augen schließen, Panik, Nacht, Halloween, sich an  jemanden klammern, Weinen, Freude, Ruhe, Gelassenheit, 
Do you likfe to read horror books?
Lest ihr gerne Horrorgeschichten?
Do you like to watch horror movies?
Schaut ihr gerne Horrorfilme?
What are your favorite horror books/movies?
Was sind eure lieblings Horrorgeschichten/Filme?
Do you get nightmares from scary films or stories?
Bekommt ihr Alpträume von gruseligen Filmen oder Geschichten?
Have you ever had a dream that seemed almost real?
Hattet ihr jemals einen Traum der beinahe real gewirkt hat?
What makes horror so interesting for some people?
Was macht Horror so interessant für manche Menschen?
What is the attraction of such stories?
Welchen Reiz haben solche Geschichten? 
Main Activity
1. Watch the clip about Krampuslauf im Graz
     Sehen Sie die Clip über Krmpsulauf in Graz.
2. Look at the Krampus tradiiton explanation from The Smithsonianmag.com.
     Sehen Sie die Krampus-Traditionen von Smithsonianmag.com.
Discussion Questions:
Diskussionsfragen
Do you associate Christmas with horror/scary things?
Assoziiert ihr Weihnachten mit Grusel?
Do you find Krampus scary?
Findet ihr Krampus gruselig? 
Would you participate in a "Krampuslauf"? Why or why not?
Würdet ihr in einem Krampuslauf mitmachen? (Warum oder Warum nicht)?
What questions do you have about this tradition?
Welche Fragen habt ihr um diese Tradition?
Wrap-Up
1. Do you think Halloween would be a better Holiday for Krampus?
Findet ihr Halloween ein besserer Feiertag für Krampus?
2. What Halloween traditions do you have?
Was für Halloween Traditionen habt ihr?
End of Activity:
Read Can-Do statements once more and have students evaluate their confidence. (Use thumbs up/thumbs down)
Encourage students to be honest in their self-evaluation.
Pay attention, and try to use feedback for future activities!
NCSSFL-ACTFL Can-Do Statements:
I can exchange and respond to opinions about horror and the horror genre.
I can engage in discussion about my associations with horror.
I can understand symbols of horror in German-speaking countries.
Cultural Resources
Linked is a fun video, Eine Krampus Geschichte!
How to Remix a Pathways Project Activity
Feeling creative?  The Pathways Project needs your help in remixing activities for the K-12 classroom.
Try taking an activity to the next level by:
Add new content (something you've created or another OER source)
Contribute additional activity suggestions
Integrate authentic materials such as videos, infographics, photos, etc.
Suggest how to implement the activity in the classroom
Customize the content for a specific audience or group of learners (for example, K-5 learners or to differentiate for student's needs)
We want to make it easy to share back with the larger Pathways Project Community! Simply, click this link to remix this activity.
Please consider sharing your remixed activity with us by emailing the activity link to Pathwaysproject@boisestate.edu so that Pathways continues to grow!
If this is your first time remixing, check out our

one minute tutorial

below: