German Level 4, Activity 02: Schule und Universität / School and University (Online)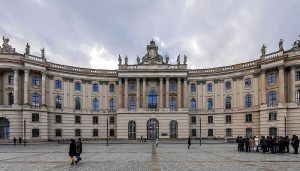 Description: Students will discuss their opinions on experiences with different school systems, as well as discuss what they would do if they decided to have children.
Semantic Topics: Schule, Studium, Cool Sein, School, Noten, Grades, Grammar, Grammatik.
Products: Video of education in Germany. Bildungsvideo in Deutschland.
Practices: Education in the U.S.  and Education in Germany. Bildung in den USA  und Bildung in Deutschland.
Perspectives: Value attached to education in the United States and German speaking countries.  Wert auf Bildung in den USA und im deutschsprachigen Raum.
NCSSFL-ACTFL World-Readiness Standards:

Standard 1.1 Students engage in conversations, provide and obtain information, express feelings and emotions, and exchange opinions.
Standard 1.2 Students understand and interpret spoken and written language on a variety of topics.
Standard 1.3 Students present information, concepts, and ideas to an audience of listeners or readers on a variety of topics.
Standard 2.1 Students demonstrate an understanding of the relationship between the practices and perspectives of the cultures studied.
Idaho State Content Standards
Objective: COMM 1.1- Interact and negotiate meaning (spoken, signed, written conversation) to share information, reactions, feelings, and opinions.
Objective: COMP 1.1- Observe formal and informal forms of language.
Objective: COMM 2.1- Understand, interpret, and analyze what is heard, read, or viewed on a variety of topics.
NCSSFL-ACTFL Can-Do Statements:
I can express my opinions on the school system, university and professors.
I can reason through scenarios regarding school and university.
I can express my own experiences with the school system.
Warm-Up
1. Discuss the Can-Do Statements with the Students.
2. Have students answer the following questions:
Was sind euer Lieblingsfächer? Warum? (What is your favorite subject? Why?)
Welches Fach mögt ihr am wenigsten? Warum? (What subject do you like the least? Why?)
Main Activity
1. Students will watch a segment from Deutschland labor-Folge 1 Schule  (0:26-1:35)
The purpose is not necessarily to understand all of the facts that are given, but rather focus on what they are seeing-how does it compare?
2. Discussion Question Ideas:
Was sind für euch akzeptable Gründe die Schule zu schwänzen?  (What are acceptable reasons to skip school?)
Was macht eine(n) gute(n) Professor(in) aus? (Was für Eigenschaften?) Habt ihr schon einmal eine schlechte Erfahrungen mit eine(n) Professor(in)? (What makes a good professor? (Which characteristics)

Have you ever had a bad experience with a professor?)

Hattet ihr positive oder negative Erfahrungen in dem amerikanischen Schulsystem? Warum? (Have you had more positive or negative experiences in the American school system? Why?)
Seid ihr noch befreundet mit einem Freund aus eurer Schulzeit? Wie seid ihr in Kontakt geblieben oder warum seid ihr nicht mehr befreundet? (Are you still friends with a friend from your school days? How did you stay in contact or why are you no longer friends?)
Was findet ihr am schwierigsten bei dem Uni Leben? (What is the hardest part about University life?)
Möchtet ihr ins Ausland studieren? Wo? (Do you want to study outside the country? Where?)
Wrap-Up
Ask students the following question(s) to finish the activity:
Hat jemand von euch eine Privatschule besucht? Wie denkt ihr über Privatschulen? (Have any of you attended a private school?

What do you think of private schools?)

Wenn ihr Kinder hätte, würdet ihr ihre Kinder auf eine Privatschule oder eine staatliche Schule schicken? (If you had children, would you send your children to a private or pubic school?)
End of activity:
Read Can-Do statements once more and have students evaluate their confidence. (Use thumbs up/thumbs down)
Encourage students to be honest in their self-evaluation.
Pay attention, and try to use feedback for future activities!
NCSSFL-ACTFL Can-Do Statements:
I can express my opinions on the school system, university and professors.
I can reason through scenarios regarding school and university.
I can express my own experiences with the school system.
Cultural Resources
Meet the Germans discuss the University System in Germany.  This is mostly  in English with German subtitles.
How to Remix a Pathways Project Activity
Feeling creative?  The Pathways Project needs your help in remixing activities for the K-12 classroom.
Try taking an activity to the next level by:
Add new content (something you've created or another OER source)
Contribute additional activity suggestions
Integrate authentic materials such as videos, infographics, photos, etc.
Suggest how to implement the activity in the classroom
Customize the content for a specific audience or group of learners (for example, K-5 learners or to differentiate for student's needs)
We want to make it easy to share back with the larger Pathways Project Community! Simply, click this link to remix this activity.
Please consider sharing your remixed activity with us by emailing the activity link to Pathwaysproject@boisestate.edu so that Pathways continues to grow!
If this is your first time remixing, check out our

one minute tutorial

below: