German Level 2, Activity 04: Gesundes Leben / Healthy Living (Online)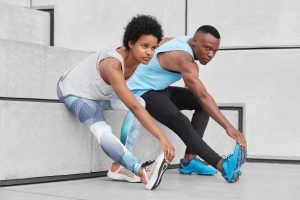 Description:
In this activity, students will review vocabulary relating to the body and parts of the body. Additionally, students will practice talking about health and how they stay healthy. 
Semantic Topics: Body, körper, health, gesundheit, healthy, gesund, sports, sport, food, essen, nutrition, ernährung.
Products: Healthy living cards.  Gesund leben Karten.
Practices: Healthy living activities.  Aktivitäten für ein gesundes Leben.
Perspectives: Healthy living and outdoor activities are important in German speaking countries.  Gesundes Wohnen und Outdoor-Aktivitäten sind im deutschsprachigen Raum wichtig.
NCSSFL-ACTFL World-Readiness Standards:
Standard 1.1 Students engage in conversations, provide and obtain information, express feelings and emotions, and exchange opinions.
Standard 1.2 Students understand and interpret spoken and written language on a variety of topics.
Standard 1.3 Students present information, concepts, and ideas to an audience of listeners or readers on a variety of topics.
Standard 2.1 Students demonstrate an understanding of the relationship between the practices and perspectives of the cultures studied.
Idaho State Content Standards:
Objective: COMM 1.1- Interact and negotiate meaning (spoken, signed, written conversation) to share information, reactions, feelings, and opinions.
Objective: COMP 1.1- Observe formal and informal forms of language.
Objective: COMM 2.1- Understand, interpret, and analyze what is heard, read, or viewed on a variety of topics.
NCSSFL-ACTFL Can-Do Statements
I can discuss healthy and unhealthy habits.
I can discuss healthy activities.
I can talk about my own healthy experiences.
Warm-Up
Discussion Questions:
Was macht ihr, um gesund zu sein? (What do you do to be healthy?)
Machst du Sport? Wenn ja welche? (Do you play any sports?)
Main Activity
Share the Parts of the Healthy Living charades flashcards in the Chat.
Teilen Sie die Teil-der-Gesundes-Leben-Scharaden-Karteikarten im Chat.
1. Divide students into two teams, everyone staying in the same zoom room.
Teilen Sie die Schüler in zwei Teams auf, die alle im selben Zoom-Raum bleiben.
2. Decide which team will go first and send through Chat one team member an action .  That team member will begin to describe the action they were sent. They will have 20 seconds per action.
Entscheiden Sie, welches Team zuerst geht, und ein Teammitglied wählt eine Karte aus und beginnt, die gewählte Aktion zu beschreiben. Sie haben 20 Sekunden pro Karte.
3. Students will then try to guess what the student is describing in German.
Die Schüler werden dann versuchen, was der Schüler auf Deutsch beschreibt zu erraten.
4. Repeat until one team reaches 9 points or the cards are gone.
Wiederholen Sie, bis ein Team 9 Punkte erreicht oder die Karten weg sind.
*** This activity can also be done by drawing using the annotate feature (pictionary) or by acting out the activity (charades).
***Diese Aktivität kann auch durch Zeichnen mit dem Anmerkungs-KE (Bild) oder durch Ausführen der Aktivität (Scharaden) erfolgen.
Example Charades Cards:
Beispiel Scharaden Karten:
Joggen gehen

Aerobic machen

Gewichte heben

Tanzen

Yoga machen

Tennis Spielen

Schwimmen

Fußball spielen

Badminton spielen

Basketball spielen

Wandern

Fahrrad fahren

Klettern

Spazieren gehen

Sich waschen

Sich eincremen

Sich rasieren

Genug schlafen

Entspannen

Die Zähne putzen

Nicht rauchen

Weniger Alkohol trinken

Vitamine nehmen

Gesund essen

Die Haare bürsten
Wrap-Up
Ask students the following question(s) to finish the activity:
Kann jemand zu gesund sein? (Can someone be too healthy?)
Was sind deine liebsten gesunden Speisen und Getränke? (What are your favorite healthy foods and drinks?)
End of Activity:
Read Can-Do statements once more and have students evaluate their confidence. (Use thumbs up/thumbs down)
Encourage students to be honest in their self-evaluation.
Pay attention, and try to use feedback for future activities!
NCSSFL-ACTFL Can-Do Statements
I can discuss healthy and unhealthy habits.
I can discuss healthy activities.
I can talk about my own healthy experiences.
cultural resources
Here is a video, in German,  about eating breakfast in Berlin.
How to Remix a Pathways Project Activity
Feeling creative?  The Pathways Project needs your help in remixing activities for the K-12 classroom.
Try taking an activity to the next level by:
Add new content (something you've created or another OER source)
Contribute additional activity suggestions
Integrate authentic materials such as videos, infographics, photos, etc.
Suggest how to implement the activity in the classroom
Customize the content for a specific audience or group of learners (for example, K-5 learners or to differentiate for student's needs)
We want to make it easy to share back with the larger Pathways Project Community! Simply, click this link to remix this activity.
Please consider sharing your remixed activity with us by emailing the activity link to Pathwaysproject@boisestate.edu so that Pathways continues to grow!
If this is your first time remixing, check out our

one minute tutorial

below: