German Level 2, Activity 07: Essen in einem Restaurant / Dining in a Restaurant (Online)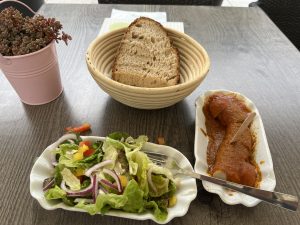 Shawn Moak
Description: In this activity, students will talk about favorite foods and act out a restaurant scenario. In the Warm-up the students discuss different foods and different German dishes.  In the Main Activity the students will act out a restaurant scenario.  In the Wrap-up students will discuss what was easy and what was hard about the restaurant scenario.
Semantic Topics: Food, Essen, Restaurant, Menu, Speisekarte, Dining,  Speisen
Products: Food, German menu, note pad for waitperson,  Essensvorlieben, deutsche Speisekarte, Notizblock für Kellner
Practices: Discussing food preferences, Ordering off of a German menu, Essensvorlieben besprechen, deutsches Menü bestellen
Perspectives: In German speaking countries waitstaff appreciate patrons ordering in the German language.  Im deutschsprachigen Raum schätzen die Kellner es, wenn Gäste in deutscher Sprache bestellen. (bill – ask for, pay for water, timing)
NCSSFL-ACTFL World-Readiness Standards:
Standard 1.1 Students engage in conversations, provide and obtain information, express feelings and emotions, and exchange opinions.
Standard 1.2 Students understand and interpret spoken and written language on a variety of topics.
Standard 2.2 Students demonstrate an understanding of the relationship between the products and perspectives of the cultures studies.
Idaho State Content Standards: 
COMM 1.1 Interact and negotiate meaning (spoken, signed, written conversation) to share information, reactions, feelings, and opinions.
COMM. 2.1 Understand, interpret, and analyze what is heard, read, or viewed on a variety of topics.
CLTR. 1.3  Function appropriately in diverse contexts within the target culture.
NCSSFL-ACTFL Can-Do Statements:
I can identify some typical items on a German menu.
I can order a meal and ask questions about menu items.
I can communicate with others from the target culture in familiar everyday situations, using memorized food and restaurant language and showing basic cultural awareness.
Warm-Up
Begin by reviewing the Can-Do Statements.
Beginnen Sie mit der Überprüfung der Can-Do-Statements
Ask the students:
Fragen Sie die Schüler:
Was isst du am liebsten? (What is your favorite type of food?)
Welches ist dein Lieblingsrestaurant und warum? (What is your favorite restaurant and why?)
adding into things to prepare for main activity – dishes from menu item – questions about German food
Main Activity
Students will act out a dining-out scenario.
Die Schüler spielen ein Restaurantszenerie nach.
1. Group the students in groups of two or three.  One student will be the waitperson and one or two students will be people out-to-eat.
Teilen Sie die Schüler in Zweier- oder Dreiergruppen ein. Ein Student wird der Kellner/die Kellnerin sein und ein oder zwei Studenten werden Leute die essen gehen sein.
2. Have the waitperson welcome the students to the restaurant and give the menus (from the menu cards) to the dining students.
Bitten Sie den Kellner/die Kellnerin, die Schüler im Restaurant willkommen zu heißen, und geben Sie den Esser /die Esserinnen die Menüs.
ie..Hier sind Ihre Speisekarten.  Habt ihr irgendwelche Fragen?
3. The dining students should discuss their likes /dislikes based on the menus.  Have the dining students ask questions of the waitperson.  "Is the food spicy?  Is it served cold?"
Der Esser/die Esserinnin sollten ihre Vorlieben und Abneigungen auf der Grundlage der Speisekarten besprechen. Lassen Sie die Essensschüler dem Kellner/der Kellnerin Fragen stellen.
ie…..Ist das Essen scharf?  Wird das kalt serviert?
4. The waitperson should answer the questions.
Der Kellner/die Kellnerin sollte die Fragen beantworten.
5. Have the dining students order their food.  "I would like to order (Currywurst, Noodles, Spaghetti Ice Cream…)."
Lassen Sie den Esser/die Esserinnen ihr Essen bestellen.
ie…"Ich würde gern (Currywurst, Spätzle, Spaghetti-Eis…….) bestellen."
6. The waitperson should ask, "How is everything?"
Der Kellner sollte fragen: "Wie ist alles? Schmeckt es euch?"
7. Students can answer:  It is delicious, good, tastes good…, thank you
Die Schüler können antworten:  "Es ist lecker, gut, schmeckt gut …, danke."
8. Students ask for the bill and change the total number to add the appropriate tip.
Die Schüler fragen ob sie zahlen können und ändern  die Summe um das Trinkgeld zu addieren. 
9. Everyone says "good-bye" or "Have a nice day!".
Alle sagen "Auf Wiedersehen" oder "Schönen Tag noch!"
10. Repeat the scenerio with roles changed as many times as time allows.
Wiederholen Sie das Szenario mit geänderten Rollen so oft, wie es die Zeit erlaubt.
Wrap-Up
Ask students the following question(s) to finish the activity:
Was war schwer daran, die Speisekarte auf Deutsch zu lesen? (What was hard about reading the menu in German?  What is easy or hard to figure out a German menu?  Why?)
Was war leicht herauszufinden, wenn man sich die Speisekarte ansieht? (What was easy to figure out looking at the menu?)
End of Activity:
Read Can-Do statements once more and have students evaluate their confidence. (Use thumbs up/thumbs down)
Encourage students to be honest in their self-evaluation.
Pay attention, and try to use feedback for future activities!
NCSSFL-ACTFL Can-Do Statements:
I can identify some typical items on a German menu.
I can order a meal and ask questions about menu items.
I can communicate with others from the target culture in familiar everyday situations, using memorized food and restaurant language and showing basic cultural awareness.
Cultural Resources
Linked here is an Easy German on 12 Typical German Dishes.
How to Remix a Pathways Project Activity
Feeling creative?  The Pathways Project needs your help in remixing activities for the K-12 classroom.
Try taking an activity to the next level by:
Add new content (something you've created or another OER source)
Contribute additional activity suggestions
Integrate authentic materials such as videos, infographics, photos, etc.
Suggest how to implement the activity in the classroom
Customize the content for a specific audience or group of learners (for example, K-5 learners or to differentiate for student's needs)
We want to make it easy to share back with the larger Pathways Project Community! Simply, click this link to remix this activity.
Please consider sharing your remixed activity with us by emailing the activity link to Pathwaysproject@boisestate.edu so that Pathways continues to grow!
If this is your first time remixing, check out our

one minute tutorial

below: