German Level 2, Activity #07: Beziehung / Relationship (Online)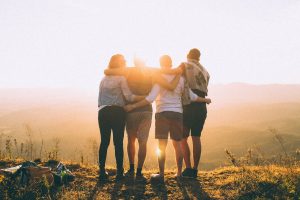 Description: Students will learn and practice the vocabulary and phrases for the relationships.
Semantic Topics: Relationship, Beziehung, Single, Ledig, Married, Verheiratet, Comparrisons, Komparativ, Superlativ.
Products: Interest questions, Interesse Fragen.
Practices: Understanding and building relationship by learning about one another.  Beziehungen verstehen und aufbauen, indem man voneinander lernt.
Perspectives: In German speaking countries as in other countries they value others for their personalities, individualities, likes and dislikes. Im deutschsprachigen Raum wie auch in anderen Ländern schätzen sie andere wegen ihrer Persönlichkeit, Individualität, Vorlieben und Abneigungen.
NCSSFL-ACTFL World-Readiness Standards:
Standard: 1.1 Students engage in conversations, provide and obtain information, express feelings and emotions, and exchange opinions.
Standard: 1.2 Students understand and interpret spoken and written language on a variety of topics.
Standard: 3.1 Students reinforce and further their knowledge of other disciplines through German.
Idaho Standards for World Languages:
Objective: COMM 1.1 Interact and negotiate to mean (spoken, signed, written conversation) to share information, reactions, feelings, and opinions.
Objective: COMM. 2.1 Understand, interpret, and analyze what is heard, read, or viewed on a variety of topics.
Objective: CONN 1.2 Relate information studied in other subjects to the target language and culture.
NCSSFL-ACTFL Can-Do Statements:
I can compare and contrast things.
I can talk about my relationships.
I can talk about the relationships of others.
I can use vocabulary relating to dating and getting to know someone.
Warm-Up
Comparitive:
Komparativ:
Which person is taller?
Welche Person ist größer?
Which animal is smaller?
Welches Tier ist kleiner?
Which hands are more colorful?
Welche Hände sind bunter?
Partner work. Each partner should create a comparative sentence, which compares themselves to their partner.
Partnerarbeit. Jeder Partner sollte einen Vergleichssatz erstellen, der sich mit seinem Partner vergleicht.
I am taller than [Name]

Ich bin größer als [Name].

My hair is darker than [Name]s hair.

Meine Haare sind dunkler als [Name]s Haare.
Main Activity
Relationship Tips
Tipps Zur Beziehung
Students will work in partners or groups of three. One person has met someone and has an interest, but needs advice about what they can do to get to know them better.
Die Studierenden arbeiten in Partnern oder Dreiergruppen. Eine Person hat jemanden kennengelernt und hat ein Interesse, braucht aber Ratschläge, was sie tun kann, um sie besser kennenzulernen.
1. Have students choose their partners (have them choose someone they have not yet worked with).
Lassen Sie die Schüler ihre Partner auswählen (lassen Sie sie jemanden auswählen, mit dem sie noch nicht gearbeitet haben).
2. Give each student the role of Partner A or Partner B.
Geben Sie jedem Schüler die Rolle von Partner A oder Partner B.
3. Put up the example – Beispiel! Slide and have a couple of students read it.
Stellen Sie das Beispiel auf! Schieben Sie und lassen Sie ein paar Schüler es lesen.
Beispiel! Slide
Partner A: Ach, ich hab heute jemanden kennengelernt! Wie kann ich ihn/sie besser kennenlernen?
Partner B: Du kannst mit ihm/ihr einen Kaffee trinken gehen!
Partner A: Was sollte ich nicht machen?
Partner B: Auf gar keinen Fall solltest du "Ich liebe dich sagen"!
4. Have them talk with one another for around 5 minutes, then switch roles. When there is enough time, have them switch partners.
Lassen Sie sie etwa 5 Minuten miteinander sprechen und wechseln Sie dann die Rollen.Wenn genügend Zeit ist, lassen Sie sie den Partner wechseln.
5. Encourage students to think of things outside of what is on the slide or to ask about words they may be curious about.
Ermutigen Sie die Schüler, an Dinge außerhalb dessen zu denken, was auf der Folie steht, oder nach Wörtern zu fragen, auf die sie neugierig sein könnten.
Culture Tip
Kultur-Tipp
Discuss the differences between "Ich habe dich gern", "Ich hab dich lieb" and "Ich liebe dich".
Besprechen Sie die Unterschiede zwischen "Ich habe dich gern", "Ich hab dich lieb" und "Ich liebe dich".
Wrap-Up
What is important in a relationship?
Was ist wichtig in einer Beziehung?
End of Activity
Read Can-Do statements once more and have students evaluate their confidence.
(Use thumbs up/thumbs down)
Encourage students to be honest in their self-evaluation.
Pay attention, and try to use feedback for future labs!
NCSSFL-ACTFL Can-Do Statements:
I can compare and contrast things.
I can talk about my relationships.
I can talk about the relationships of others.
I can use vocabulary relating to dating and getting to know someone.
Cultural Notes:  Linked is an Easy German video about Finding Friends in Germany.
How to Remix a Pathways Project Activity
Feeling creative?  The Pathways Project needs your help in remixing activities for the K-12 classroom.
Try taking an activity to the next level by:
Add new content (something you've created or another OER source)
Contribute additional activity suggestions
Integrate authentic materials such as videos, infographics, photos, etc.
Suggest how to implement the activity in the classroom
Customize the content for a specific audience or group of learners (for example, K-5 learners or to differentiate for student's needs)
We want to make it easy to share back with the larger Pathways Project Community! Simply, click this link to remix this activity. Please consider sharing your remixed activity with us by emailing the activity link to Pathwaysproject@boisestate.edu so that Pathways continues to grow!
If this is your first time remixing, check out our

one minute tutorial

below: