German Level 2, Activity #14: Reisen / Travel (Online)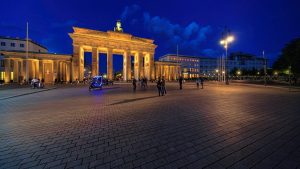 Description: Students discuss differences in cities and clothing between the U.S. and Germany.  Students give directions to various locations.
Semantic Topics: Travel, Reisen, Directions, Wegweisungen, Richtungen, Clothing, Kleidung, comparisons, Vergleiche.
Products: Google slide show on different cities and individuals who want to travel.  Google-Diashow über verschiedene Städte und Menschen, die reisen möchten.
Practices:  Speaking about the differences in various locations world-wide.  Apropos Unterschiede an verschiedenen Standorten weltweit.  Understanding the important aspects of travel to different locations.  Verstehen der wichtigen Aspekte des Reisens zu verschiedenen Orten.
Perspectives: Appreciating the individualities of various cities in Germany and in the United States.  Wertschätzung der Individualität verschiedener Städte in Deutschland und in den USA. Understand that it is best to do good travel preparation before any trip begins. Verstehen Sie, dass es am besten ist, eine gute Reisevorbereitung zu treffen, bevor eine Reise beginnt.
NCSSFL-ACTFL World-Readiness Standards:

Standard 1.1: Students engage in conversations, provide and obtain information, express feelings and emotions, and exchange opinions.
Standard 1.2: Students understand and interpret spoken and written language on a variety of topics.
Standard 2.2: Students demonstrate an understanding of the relationship between the products and perspectives of the cultures studied.
Idaho Content Standards for World Languages:
Objective: COMM 1.1  Interact and negotiate meaning (spoken, signed, written conversation) to share information, reactions, feelings, and opinions.
Objective CLTR 1.2: Explain the relationship between cultural practices/behaviors and the perspectives that represent the target culture's view of the world.
Objective CLTR 1.3: Function appropriately in diverse contexts within the target culture.
Objective COMP 2.1: Identify, describe and compare/contrast products and their use in the target culture with the learner's culture.
NCSSFL-ACTFL Can-Do Statements:
I can discuss the differences between German and US cities.
I can compare clothing and stores in my culture and German-speaking culture.
I can talk about travel details.
I can describe how to get somewhere.
Warm-Up
Questions about German cities
Fragen über deutsche Städte
How are the skylines of Seattle and Frankfurt different?
Wie sind die Skylines von Seattle und Frankfurt anders? 
How do American and German cities compare?
Wie sehen amerikanische und deutsche Städte anders aus?
Which stores can you find in America, but not in Germany?
Welche Läden  findet man in Amerika aber nicht in Deutschland?
How is the clothing in Germany and America different?
Wie sind die Kleidung in Deutschland und USA anders?
Main Activity
Directions: Students will describe how to get to certain locations.
Wegbeschreibung: Die Schüler beschreiben, wie man zu bestimmten Orten kommt.
Wie kommt man am besten zum Albertsons? 
Wie kommt man am besten zum Tierpark? 
Wie kommt man am besten zum Eagle Village 
Have students answer the following questions in regard to these locations:
Lassen Sie die Schüler die folgenden Fragen in Bezug auf diese Standorte beantworten:
How far is it?
What's around?
How can you get there?

Wie kann man da hinkommen? 
Travel: Students are provided two people and where they are going. The students must answer the following questions about their travel plans:
Reisen: Die Schüler erhalten zwei Personen und wohin sie gehen.Die Schüler müssen die folgenden Fragen zu ihren Reiseplänen beantworten:
Was sollte diese Person mitbringen?  (What should this person bring with them?_
Wann reist diese Person ab (am 4. Juni z.B?  (When does this person leave (e.g. on June 4th?))
Wann kommt diese Person an? (z.B es dauert nur 4 Stunden also er kommt in ein paar Stunden später an)(When does this person arrive? (e.g. it only takes 4 hours so they will arrive in a few hours later))
Wo wohnt diese Person? (bei einem Hotel oder Jugendherberge oder bei Freunden) (Where does this person live? (at a hotel or youth hostel or with friends))
Braucht diese Person eine Reisepass für die Reise? (Does this person need a passport to travel?))
Wrap-Up
Ask students about their dream travel destination.
Fragen Sie Studenten nach ihrem Traumreiseziel.
End of Activity
Read Can-Do statements once more and have students evaluate their confidence.
(Use thumbs up/thumbs down)
Encourage students to be honest in their self-evaluation.
Pay attention, and try to use feedback for future activities!
NCSSFL-ACTFL Can-Do Statements:
I can discuss the differences between German and US cities.
I can compare clothing and stores in my culture and German-speaking culture.
I can talk about travel details.
I can describe how to get somewhere.
Cultural Notes:  Linked here are two fun Easy German Videos  6 Weird Things Germans do on Holiday  and   Great Travel Destinations in Germany.
How to Remix a Pathways Project Activity
Feeling creative?  The Pathways Project needs your help in remixing activities for the K-12 classroom.
Try taking an activity to the next level by:
Add new content (something you've created or another OER source)
Contribute additional activity suggestions
Integrate authentic materials such as videos, infographics, photos, etc.
Suggest how to implement the activity in the classroom
Customize the content for a specific audience or group of learners (for example, K-5 learners or to differentiate for student's needs)
We want to make it easy to share back with the larger Pathways Project Community! Simply, click this link to remix this activity. Please consider sharing your remixed activity with us by emailing the activity link to Pathwaysproject@boisestate.edu so that Pathways continues to grow!
If this is your first time remixing, check out our

one minute tutorial

below: