German Level 3, Activity 06: Berufe / Jobs (Online)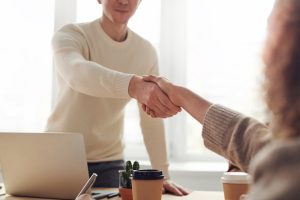 Description: Students will discuss and answer questions relating to different professions, as well as what they might do during an interview.
Semantic Topics: Interviews, Job Interview, Vorstellungsgespräche, Professions, Berufe, Dream Job, Traumjob, Traumberuf, Future Tense,  Futur.
Products: Profession Cards, Berufskarten.
Practices: Socially appropriate conduct in job interviews.  Sozial angemessenes Verhalten bei Vorstellungsgesprächen.
Perspectives: The value of employment and the value of a second language in the workforce.  Der Wert der Beschäftigung und der Wert einer zweiten Sprache in der Belegschaft.
NCSSFL-ACTFL World-Readiness Standards:
Standard 1.1: Students engage in conversations, provide and obtain information, express feelings and emotions, and exchange opinions.
Standard 1.2: Students understand and interpret written and spoken language on a variety of topics.
Idaho State Content Standards:
Objective: COMM 1.1: Interact and negotiate meaning (spoken, signed, written conversation) to share information, reactions, feelings, and opinions.
Objective: COMM 2.1: Understand, interpret, and analyze what is heard, read, or viewed on a variety of topics.
NCSSFL-ACTFL Can-Do Statements:
I can identify various professions.
I can give my opinion about interview behavior.
I can describe my dream job.
Warm Up
1. One student will be chosen to guess the correct occupation.  The occupation will appear when you click on the orange box in the Google Slide Show.  Have the one student close their eyes as the rest of the zoom room sees the word.  Click on the word again and it will disappear.
Ein Schüler wird ausgewählt, um den richtigen Beruf zu erraten. Der Beruf wird angezeigt, wenn Sie auf das orangefarbenes Kästchen in der Google Slide Show klicken. Lassen Sie einen Schüler die Augen schließen, während der Rest des Zoom-Raums das Wort sieht. Klicken Sie erneut auf das Wort und es verschwindet.
2. The other students give hints about what the job could be by describing it without explicitly saying what it is.
Die anderen Studenten geben Hinweise darauf, was der Job sein könnte, indem sie ihn beschreiben, ohne explizit zu sagen, was es ist.
3. Once the student has guessed the word, the next student will get to guess the job and so on.
Sobald der Schüler das Wort erraten hat, kann der nächste Schüler den Job erraten und so weiter.
Main Activity
Discussion questions:
Diskussionsfragen
Was sollte man tun, um sich auf ein Vorstellungsgespräch vorzubereiten? Man sollte… oder man sollte nicht…. (What should you do to prepare for an interview? (use imperative form or indefinite 'you' form)
Was kann ein Interviewer machen, damit sich der Befragter wohlfühlt? (What can an interviewer do to make someone more comfortable?)
Was war die schwierigste Frage, die du jemals in einem Vorstellungsgespräch gefragt wurdest? (What's the hardest question you've been asked in a job interview?)
Was ist dein Traumberuf? Warum? (What's your dream job? Why?)
Was ist wichtiger, ein größeres gehalt oder das Beruf? (Is a high salary or an enjoyable job more important?)
​​​​​​​Was war den schlimmsten Job, den du je hattest? Warum? (What's the worst job you've had?)
​​​​​​​Welche Berufe kann man mit deinem Hauptfach machen? (What jobs are available with your major?)
WRAP-UP
Ask the students what jobs they have now or have had in the past.
Fragen Sie die Schüler, welche Jobs sie jetzt haben oder in der Vergangenheit hatten.
End of activity:
Read Can-Do statements once more and have students evaluate their confidence. (Use thumbs up/thumbs down)
Encourage students to be honest in their self-evaluation.
Pay attention, and try to use feedback for future activities!
NCSSFL-ACTFL Can-Do Statements:
I can identify various professions.
I can give my opinion about interview behavior.
I can describe my dream job.
Cultural Resources
How to Remix a Pathways Project Activity
Feeling creative?  The Pathways Project needs your help in remixing activities for the K-12 classroom.
Try taking an activity to the next level by:
Add new content (something you've created or another OER source)
Contribute additional activity suggestions
Integrate authentic materials such as videos, infographics, photos, etc.
Suggest how to implement the activity in the classroom
Customize the content for a specific audience or group of learners (for example, K-5 learners or to differentiate for student's needs)
We want to make it easy to share back with the larger Pathways Project Community! Simply, click this link to remix this activity.
Please consider sharing your remixed activity with us by emailing the activity link to Pathwaysproject@boisestate.edu so that Pathways continues to grow!
If this is your first time remixing, check out our

one minute tutorial

below: