German Level 1, Activity 03: Business-Schnitzeljagd / Business Scavenger Hunt (Face to Face)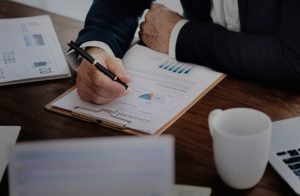 Description: Students will receive business cards listing an address, profession and phone number. Based on the cards, students will practice asking each other questions to determine each other's information.
Semantic Topics: introductions, vorstellungen, questions, fragen, personal information, persönliche daten, phone number, telefonnummer, address, addresse, profession, beruf, business, geschäft, scavenger hunt, schnitzeljagd.
Products: Business Cards, Visitenkarten, Professions, Berufe
Practices: Learning how to read and use business cards in a German speaking country, Visitenkarten im deutschsprachigen Raum lesen und verwenden lernen.
Perspectives: In the German culture work is very important.  Bei den Deutschen ist Arbeit sehr wichtig.  Networking is important in the German speaking working world. Vernetzung ist wichtig in der deutschen sprechen Arbeitswelt.  Respect for elders or persons in authority in German-speaking countries is important and can be achieved by addressing them correctly. Respekt gegenüber Ältesten oder Autoritätspersonen im deutschsprachigen Raum ist wichtig und kann durch die richtige Ansprache erreicht werden.
NCSSFL-ACTFL World-Readiness Standards:
Standard: 1.1 Students engage in conversations, provide and obtain information, express feelings and emotions, and exchange opinions.
Standard: 1.2 Students understand and interpret written and spoken language on a variety of topics.
Standard: 2.1 Students demonstrate an understanding of the relationship between the practices and perspectives of the culture studied.
Idaho State Content Standards:
Objective: COMM 1.1: Interact and negotiate meaning (spoken, signed, written conversation) to share information, reactions, feelings, and opinions.
Objective: COMM 2.1: Understand, interpret, and analyze what is heard, read, or viewed on a variety of topics.
Objective: CLTR 1.2: Explain the relationship between cultural practices/behaviors and the perspectives that represent the target culture's view of the world.
Objective: CLTR 1.3: Function appropriately in diverse contexts within the target culture.
NCSSFL-ACTFL Can-Do Standards:
I can provide personal information when asked.
I can ask another person about their address and phone number.
I can identify street addresses and phone numbers.
Would you like to make changes to the materials? Access the template(s) below:
(Canva template, free account required)
Warm-up
1. Begin by opening the Google Slideshow and  introduce the Can-Dos for the activity.
Öffnen Sie zunächst die Google Slideshow und stellen Sie die Can-Dos für die Aktivität vor.
2. Using the icons on the business card slides, ask students whether they would use Sie or du based on the situation.
Fragen Sie die Schüler anhand der Symbole auf den Folien, ob sie Sie oder du je nach Situation verwenden würden.
3. After students have finished answering whether they would use Sie or du, give students a verb to have them form full questions and responses using the correct conjugation.
Nachdem die Schüler mit der Antwort fertig sind, ob sie Sie oder du verwenden würden, geben Sie den Schülern ein Verb, damit sie vollständige Fragen und Antworten mit der richtigen Konjugation bilden können.
Ex: Wie heißen Sie? Wie geht es dir? etc.
Main Activity
1. Give each student  a person card and a question sheet.
Geben Sie jedem Schüler eine Personenkarte und ein Frageblatt.
2. The students then have to go around asking questions to figure out which person the information belongs to.
Die Schüler müssen dann herumgehen und Fragen stellen, um herauszufinden, zu welcher Person die Informationen gehören. 
Ex: Was ist deine Telefonnummer? Wo arbeiten Sie?
3. Once they find who has the information they write down the name on the business card.
Sobald sie herausgefunden haben, wer die Informationen hat, notieren sie den Namen auf der Visitenkarte.
They might not get to every spot on the sheet and that's fine!
  Sie kommen vielleicht nicht an jede Stelle auf dem Blatt und das ist in Ordnung!
Wrap-Up
Ask students the following question(s) to finish the activity:
Was ist deine Telefonnummer?

(What is your phone number?) (Students are welcome to make up a phone number)

 Arbeiten Sie? Wo arbeiten Sie? 

(Work? Where do you work?)
End Of Activity:
• Read Can-Do statements once more and have students evaluate their confidence. (Use thumbs up/thumbs down)
• Encourage students to be honest in their self-evaluation.
• Pay attention, and try to use feedback for future activities!
NCSSFL-ACTFL Can-Do Statements:
I can provide personal information when asked.
I can ask another person about their address and phone number.
I can identify different professions.
Cultural Resources
Linked is an Easy German video, Job Interviews in Germany.
How to Remix a Pathways Project Activity
Feeling creative?  The Pathways Project needs your help in remixing activities for the K-12 classroom.
Try taking an activity to the next level by:
Add new content (something you've created or another OER source)
Contribute additional activity suggestions
Integrate authentic materials such as videos, infographics, photos, etc.
Suggest how to implement the activity in the classroom
Customize the content for a specific audience or group of learners (for example, K-5 learners or to differentiate for student's needs)
We want to make it easy to share back with the larger Pathways Project Community! Simply, click this link to remix this activity.
Please consider sharing your remixed activity with us by emailing the activity link to Pathwaysproject@boisestate.edu so that Pathways continues to grow!
If this is your first time remixing, check out our

one minute tutorial

below: