German Level 1, Activity 09: Essen / Food (Face to Face)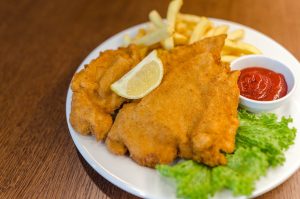 Description: Students will review vocabulary words relating to food, using a game of Heads Up. Then, they will practice using those words with a card game that requires them to match words with the picture.
Semantic Topics: food, eating, essen, vocabulary game, vokabelspiel, matching pictures, passende bilder, groceries, lebensmittel.
Products: Traditional German products for breakfast, lunch, dinner, snack time. Traditionelle deutsche Produkte zum Frühstück, Mittag- und Abendessen, Snackzeit.
Practices: Understanding the cultural importance of meal times in German speaking countries. Die kulturelle Bedeutung von Essenszeiten im deutschsprachigen Raum verstehen.
Perspectives: Eating together with family and / or friends is important in the culture of the German-speaking world. Das gemeinsame Essen mit Familie und/oder Freunden ist in der Kultur des deutschsprachigen Raums wichtig.
NCSFFL-ACTFL World-Readiness Standards:
Standard 1.1 Students engage in conversations, provide and obtain information, express feelings and emotions, and exchange opinions.
Standard 1.2 Students understand and interpret spoken and written language on a variety of topics.
Standard 2.2 Students demonstrate an understanding of the relationship between the products and perspectives of the cultures studied.
Idaho State Content Standards:
Objective: COMM 1.1: Interact and negotiate meaning (spoken, signed, written conversation) to share information, reactions, feelings, and opinions.
Objective: COMM 2.1: Understand, interpret, and analyze what is heard, read, or viewed on a variety of topics.
Objective: CLTR 1.1: Analyze the cultural practices/patterns of behavior accepted as the societal norm in the target culture.
Objective: CLTR 2.3: Justify the underlying beliefs or values of the target culture that resulted in the creation of the product.
NCSSFL-ACTFL Can-Do Statements:
I can recognize food vocabulary when spoken to me.
I can create simple sentences using food vocabulary.
I can use high frequency and low frequency phrases related to food.
Would you like to make changes to the materials? Access the template(s) below:
(Canva Template(s), free account required)
Warm-up
1. Begin by opening the Google Slideshow and introducing the Can-Dos for today's activity.
Öffnen Sie zunächst die Google Slideshow und stellen Sie die Can-Dos für die heutige Aktivität vor.
2. Students will play a Kahoot vocabulary game to warm up, click on the link to the Kahoot game in the google slideshow or in the materials needed sections.
Die Studenten werden ein Kahoot Vokabelspiel spielen zum Aufwarmen, klicken sie auf die Kahootspiel Link in dem Slideshow oder oben in "benötigte Materialen". 
Main Activity
1. Separate all the picture cards and place them face down in a group.
Trennen Sie alle Bildkarten und legen Sie sie verdeckt in eine Gruppe.
2. Separate all the vocab cards and place them face down in another group.
Trennen Sie alle Vokabelkarten und legen Sie sie verdeckt in eine andere Gruppe.
3. Students will take turns turning over a card from the picture group and a card from the vocab group and try to match them. The student should say both the word they turn over and the name of the object on the card.
Die Schüler wechseln sich ab, um eine Karte aus der Bildgruppe und eine Karte aus der Vokabelgruppe umzudrehen und versuchen, sie zuzuordnen. Der Schüler sollte sowohl das Wort, das er umdreht, als auch den Namen des Objekts auf der Karte sagen.
4. If the cards don't match, they should turn them back over in the same spot, and then it is the next person's turn.
Wenn die Karten nicht übereinstimmen, sollten sie sie an der gleichen Stelle umdrehen, und die nächste Person ist dran.
5. The other students should pay attention to the cards the student is turning over so they have a better chance of finding the matching cards.
Die anderen Schüler sollten auf die Karten achten, die der Schüler umdreht, damit sie eine bessere Chance haben, die passenden Karten zu finden.
6. Once a student has found a match, they must use the word in a sentence in order to get the points.
Sobald ein Schüler eine Übereinstimmung gefunden hat, muss er das Wort in einem Satz verwenden, um die Punkte zu erhalten.
7. Students are not allowed to use the same sentence as the students before them. Encourage them to be creative.
Die Schüler dürfen nicht den gleichen Satz wie die Schüler vor ihnen verwenden. Ermutigen Sie sie, kreativ zu sein.
8. Whoever has the most points at the end wins!
Wer am Ende die meisten Punkte hat, gewinnt!
Wrap-up
Ask the following questions to finish the activity:
Was sind eure Lieblingsaktivitäten?

(What are your favorite activities?)
Wann esst ihr Frühstück? Mittagessen? Abendessen?

(W

hen do you eat breakfast? Lunch? Dinner?)
End of Activity:
Read Can-Do statements once more and have students evaluate their confidence. (Use thumbs up/thumbs down)
Encourage students to be honest in their self-evaluation.
Pay attention, and try to use feedback for future activities!
NCSSFL-ACTFL Can-Do Statements:
I can recognize food vocabulary when spoken to me.
I can create simple sentences using food vocabulary.
I can use high frequency and low frequency phrases related to food.
Cultural Resources
If you order a coffee – Kaffee – in Germany you will receive a cup of black coffe.   Over 70% of people in Germany, Switzerland and Austria drink coffee daily.  Schorle is a German drink that combines juice or wine with sparkling water, lemonade or lemonlime soda.  Apfelschorle (Apple juice mixed with sparkling mineral water) is the most common.  Linked is a video about typical German dishes for German speaking lands.  White asparagus or Spargel is delicious delicacy and in German speaking lands is known the "King of Vegetables".  Linked here and here are two interesting articles about this royal vegetable.
How to Remix a Pathways Project Activity
Feeling creative?  The Pathways Project needs your help in remixing activities for the K-12 classroom.
Try taking an activity to the next level by:
Add new content (something you've created or another OER source)
Contribute additional activity suggestions
Integrate authentic materials such as videos, infographics, photos, etc.
Suggest how to implement the activity in the classroom
Customize the content for a specific audience or group of learners (for example, K-5 learners or to differentiate for student's needs)
We want to make it easy to share back with the larger Pathways Project Community! Simply, click this link to remix this activity.
Please consider sharing your remixed activity with us by emailing the activity link to Pathwaysproject@boisestate.edu so that Pathways continues to grow!
If this is your first time remixing, check out our

one minute tutorial

below: