German Level 3, Activity #08: Halloween Vokabelspiel/ Vocabulary Games(Face to Face)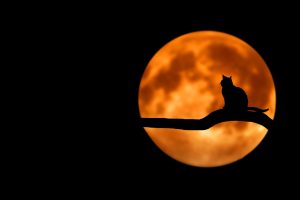 Description: Students will play a game listing as many vocabulary words as they can that are related to a certain topic.
Semantic Topics: Halloween, Food, Essen, Der, Die, Das.
Products: Halloween Cards, Halloween-Karten.
Practices:  Describing traditions surrounding Halloween in German.  Beschreibung der Traditionen rund um Halloween auf Deutsch.
Perspectives:  Value in learning German words for certain holidays.  Wert beim Erlernen von deutschen Wörtern für bestimmte Feiertage.
NCSSFL-ACTFL World-Readiness Standards:
Standard 1.1: Students engage in conversations, provide and obtain information, express feelings and emotions, and exchange opinions.
Standard 1.2: Students understand and interpret written and spoken language on a variety of topics.
Idaho Content Standards for World Languages:
Objective: COMM 1.1 Interact and negotiate meaning (spoken, signed, written conversation) to share information, reactions, feelings, and opinions
Objective: COMM 2.1 Understand, interpret, and analyze what is heard, read, or viewed on a variety of topics.
NCSSFL-ACTFL Can-Do Statements:
I can come up with vocabulary related to a topic.
I can answer questions related to a topic.
I can have a discussion related to different topics.
Timer
Pencil and paper (if students don't have it)
Warm-Up
Discuss Halloween Vocabulary with the students.
Diskutieren Sie mit den Schülern über Halloween-Vokabular.
Candy
Costume
Trick or treat
Pumpkin
Haunted Hause
1. Ask the students how they celebrate Halloween.
Fragen Sie die Schüler, wie sie Halloween feiern.
2. Ask the students to share about their favorite candies.
Bitten Sie die Schüler, etwas über ihre Lieblingssüßigkeiten zu erzählen.
Main Activity
Coffee Talk Game
Kaffee-Talk-Spiel
1. The instructor reveals a word and then gives the students a certain amount of time to write down all the things that come to mind surrounding the word.
Der Lehrer verrät ein Wort und gibt den Schülern dann eine gewisse Zeit, um alles aufzuschreiben, was ihnen zu dem Wort einfällt.
2. After time is up, students go around reading off their lists. If you have the same word written down as someone else, you cross it out.
Nach Ablauf der Zeit lesen die Schüler ihre Listen ab. Wenn Sie dasselbe Wort wie jemand anderes aufgeschrieben haben, streichen Sie es durch.
3. Students earn points for the words they have that no one else has.
Die Schüler erhalten Punkte für die Wörter, die sie haben, die sonst niemand hat.
4. The instructor should question words that don't seem relevant and students have to defend them.
Der Lehrer sollten Wörter hinterfragen, die nicht relevant erscheinen, und die Schüler müssen sie verteidigen.
5. Each round, the amount of time decreases, starting with 2 minutes and going down by 15-30 seconds each time (depending on how much time is left in the lab and how many rounds you want to do)
Mit jeder Runde verringert sich die Zeit, beginnend mit 2 Minuten und jedes Mal um 15-30 Sekunden (je nachdem, wie viel Zeit im Labor bleibt und wie viele Runden Sie machen möchten)
Wrap-Up
Ask the student to share about their favorite costumes for Halloween.
Bitten Sie die Schüler, ihre Lieblingskostüme für Halloween zu erzählen.
End of Activity
• Read Can-Do statements once more and have students evaluate their confidence.
(Use thumbs up/thumbs down)
• Encourage students to be honest in their self-evaluation.
• Pay attention, and try to use feedback for future activities!
NCSSFL-ACTFL Can-Do Statements:
I can come up with vocabulary related to a topic.
I can answer questions related to a topic.
I can have a discussion related to different topics.
How to Remix a Pathways Project Activity
Feeling creative?  The Pathways Project needs your help in remixing activities for the K-12 classroom.
Try taking an activity to the next level by:
Add new content (something you've created or another OER source)
Contribute additional activity suggestions
Integrate authentic materials such as videos, infographics, photos, etc.
Suggest how to implement the activity in the classroom
Customize the content for a specific audience or group of learners (for example, K-5 learners or to differentiate for student's needs)
We want to make it easy to share back with the larger Pathways Project Community! Simply, click this link to remix this activity. Please consider sharing your remixed activity with us by emailing the activity link to Pathwaysproject@boisestate.edu so that Pathways continues to grow!
If this is your first time remixing, check out our

one minute tutorial

below: