How to Use the Activities in this Book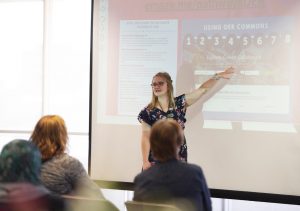 Each activity featured in this book is complete and ready to be implemented in your classroom.
Before you begin:
Most activities are designed to be 30 minutes in duration, unless otherwise specified. Depending on the level of your students and size of the group you are working with, more or less time may be allocated.
Be sure to read through the activity description and review the list of required materials.
Every activity includes the required digital materials. For face-to-face activities, you may occasionally need other supplies such as whiteboard markers or dice.
How to Find an Activity
What's Included in a Pathways Project Activity?
The following interactive photos will help you to learn more about what's included in each Pathways Project activity. Click on the + icon located next to the different activity sections to learn more.
Revise for Your Language Classroom:
Revising an activity allows you to adapt the activity to meet the unique needs of your language classroom. You can modify the activity instructions, add or take away a portion of the activity, or make adjustments to the Google Slideshow. We have provided editable versions of all Google Slideshows and Printable Activity materials.
Google Slideshows:
To begin, go to File -> Copy to create an editable version of the slideshow.
Once finished with your changes, please complete the following steps to share:
Click on Share
Who Has Access
Ensure link sharing is on and allow external access.
Printable Activity Materials:
Most of our printable activity materials are developed using Canva, a free online graphic design program. Before making changes to a material, you'll want to sign up for a free account.
If you're a K-12 educator, consider requesting a free Canva for Education account!
How to Remix An Activity
Feeling creative? Language instructors sometimes feel reluctant to share back their great ideas, but we want to change that by making it easy to share back with the larger Pathways Project Community!
Try taking an activity to the next level by:
Adding new content (something you've created or from another OER source)
Additional activity suggestions
New authentic materials
Suggestions on implementing the activity in the classroom
Localizing the content for a specific audience or group of learners
When you are ready to begin remixing the activity, simply look for the "Remix This Activity" link at the bottom of the activity page. This will then take you to a screen with a NEW, editable version of the activity. Please note that a free OER Commons account is required.