German Level 2, Activity 03: Sehenswürdigkeiten / Sightseeing (Face to Face)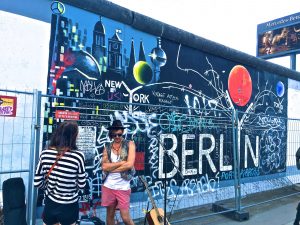 Description: Students will work together to match German sights to their descriptions and try to find interesting facts about a couple of the sights that they would like to know more about.
Semantic Topics: sightseeing, attractions, sehenswürdkeiten, travel, reisen, activity, aktivität, country, land
Products:  Knowledge of different tourist attractions in the U.S. and abroad.  Kenntnisse über verschiedene touristische Attraktionen in den USA und im Ausland. Photos of German tourist attractions.  Fotos von deutschen Sehenswürdigkeiten.
Practices: Getting to know various tourist attractions in German speaking countries. Kennenlernen verschiedener Touristenattraktionen im deutschsprachigen Raum.  Understanding the cultural importance of various tourist attractions and why they are there.
Perspectives:  Tourist attractions in German speaking countries were culturally relevant when they were created and can provide information about the cultural present and past of German speaking countries. Touristische Attraktionen im deutschsprachigen Raum waren bei ihrer Entstehung kulturell relevant und können Information über die kulturelle Gegenwart und Vergangenheit im deutschsprachigen Raum geben.
NCSSFL-ACTFL World-Readiness Standards:
Standard 1.1 Students engage in conversations, provide and obtain information, express feelings and emotions, and exchange opinions.
Standard 1.2 Students understand and interpret spoken and written language on a variety of topics.
Standard 2.2 Students demonstrate an understanding of the relationship between the products and perspectives of the cultures studied.
Idaho State Content Standards:
Objective: COMM 1.1: Interact and negotiate meaning (spoken, signed, written conversation) to share information, reactions, feelings, and opinions.
Objective: COMM 2.1: Understand, interpret, and analyze what is heard, read, or viewed on a variety of topics.
Objective: CLTR 1.1: Analyze the cultural practices/patterns of behavior accepted as the societal norm in the target culture.
Objective: CLTR 2.1: Analyze the significance of a product (art, music, literature, etc…) in a target culture.
NCSSFL-ACTFL Can-Do Statements:
I can recognize familiar names of places discussed on a tour.
I can identify my favorite people, places, or things from a list.
I can name places in my community, town, city, state or country.
Warm-up
1. Begin by opening the Google Slideshow and introducing the Can-Do Statements for today's activity.
Öffnen Sie zunächst die Google Slideshow und stellen Sie die Can-Do Aussagen für die heutige Aktivität vor.
2. Ask students what popular attractions exist in the following places:
Fragen Sie die Schüler, welche beliebten Attraktionen es an den folgenden Orten gibt:
What sights are there in…?
Welche Sehenswürdigkeiten gibt es in…?
Frankreich (France)

USA

(USA)
Japan (Japan)
China (China)
Italien (Italy)
Die Niederlande (Netherlands)
Australien (Australia)
Mexiko (Mexico)
Vereinigtes Königreich (United Kingdom)

Boise

(Boise)
Main Activity
1. Divide Students into Partners or groups of three (depending on how many students you have).
Teilen Sie die Schüler in Partner oder Dreiergruppen ein (je nachdem, wie viele Schüler Sie haben).
2. Groups will be given the German sight cards.  (Make sure you mix the cards and descriptions up).
Gruppen erhalten die deutschen Sehenswürdigkeitenkarten.  (Stellen Sie sicher, dass Sie die Karten und Beschreibungen vermischen).
3. Students match the description to the place in the picture.
Die Schüler werden dann die Beschreibung an die Stelle im Bild anpassen.
4. After matching, the students will choose two or three places from the cards they would like to visit and research that place and give a few more details at the end of the activity.
Nach dem Matching wählen die Schüler zwei oder drei Orte aus den Karten aus, die sie besuchen möchten, und recherchieren diesen Ort und geben am Ende der Aktivität ein paar weitere Details an.
Wrap-Up
Ask students the following question(s) to finish the activity:
Welche Sehenswürdigkeiten mögt ihr am liebsten? Museen, alte Gebäude, Schlösser, Kirchen…? (Which sights do you like the most? Museums, old buildings, castles, churches…?)
Welche Sehenswürdigkeiten habt ihr schon besucht? (Which sights have you already visited?)
End of Activity:
Read Can-Do statements once more and have students evaluate their confidence. (Use thumbs up/thumbs down)
Encourage students to be honest in their self-evaluation.
Pay attention, and try to use feedback for future activities!
NCSSFL-ACTFL Can-Do Statements:
I can recognize familiar names of places discussed on a tour.
I can identify my favorite people, places, or things from a list.
I can name places in my community, town, city, state or country.
cultural Resources
Here are a couple of videos on tourist attractions in German. The first is about Castles, in English but with German subtitles. The second is an Easy German video about the most beautiful places in Germany.
How to Remix a Pathways Project Activity
Feeling creative?  The Pathways Project needs your help in remixing activities for the K-12 classroom.
Try taking an activity to the next level by:
Add new content (something you've created or another OER source)
Contribute additional activity suggestions
Integrate authentic materials such as videos, infographics, photos, etc.
Suggest how to implement the activity in the classroom
Customize the content for a specific audience or group of learners (for example, K-5 learners or to differentiate for student's needs)
We want to make it easy to share back with the larger Pathways Project Community! Simply, click this link to remix this activity.
Please consider sharing your remixed activity with us by emailing the activity link to Pathwaysproject@boisestate.edu so that Pathways continues to grow!
If this is your first time remixing, check out our

one minute tutorial

below: