German Level 3, Activity 04: Reisen durch Berlin / Traveling Through Berlin (Online)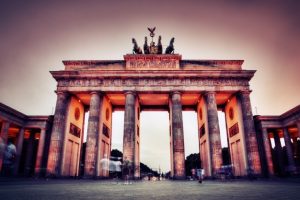 Description: Students will use a map of Berlin to give directions on how to navigate from one landmark to another.
Semantic Topics: Directions, Anfahrt, Wegbeschreibung, Berlin, Navigate, Navigieren, Travel, Reisen, Map, Landkarte, Karte,  Landmarks, Sehenswürdigkeiten, Commands, Befehle.
Products: Map of Berlin, List of Tourist Attractions in Berlin. Karte von Berlin, Liste der Touristenattraktionen in Berlin.
Practices:  Learning how to navigate Berlin with a map. Provide instructions to various tourist attractions in the German language. Lernen, wie man sich mit einer Karte durch Berlin navigiert. Geben Sie Anweisungen zu verschiedenen Sehenswürdigkeiten auf Deutsch.
Perspectives:  Value associated with foreign travel to a world capital. Wert, der mit Auslandsreisen in eine Welthauptstadt verbunden ist.
NCSSFL-ACTFL World-Readiness Standards:
Standard 1.1: Students engage in conversations, provide and obtain information, express feelings and emotions, and exchange opinions.
Standard 1.2: Students understand and interpret written and spoken language on a variety of topics.
Idaho State Content Standards:
Objective: COMM 1.1: Interact and negotiate meaning (spoken, signed, written conversation) to share information, reactions, feelings, and opinions.
Objective: COMM 2.1: Understand, interpret, and analyze what is heard, read, or viewed on a variety of topics.
NCSSFL-ACTFL Can-Do Statements:
I can ask for directions to a place.
I can give directions from place to place.
I can tell someone where something is located.
Warm-Up
Discuss the Can-Do Statements.  Ask the students: What sort of international travel have you done? How did you communicate with others? Have students talk in break-out rooms, then come back to the group and describe what the others have done.
Welche Art von internationalen Reisen haben Sie gemacht? Wie haben Sie mit anderen kommuniziert? Lassen Sie die Schüler zu zweit sprechen, dann kommen Sie zurück zur Gruppe und beschreiben Sie, was die anderen gemacht haben.
Main Activity
1. The instructor will share the slideshow with the map of Berlin with students.
Der Lehrer wird die Diashow mit der Karte von Berlin mit den Schülern teilen.
2. The instructor will then put students into breakout rooms and assign them two landmarks.
Der Lehrer die Schüler dann in Breakout-Räume bringen und ihnen zwei Wahrzeichen zuweisen.
3. The students will work together to decide how to get from one landmark to the other.
Die Schüler werden zusammenarbeiten, um zu entscheiden, wie sie von einem Wahrzeichen zum anderen gelangen.
4. The instructor will bring the students back from the breakout rooms and ask the students to show them how to get to these places.
Der Lehrer bringt die Schüler aus den Breakout-Räumen zurück und bittet die Schüler, ihnen zu zeigen, wie sie zu diesen Orten gelangen.
5. The instructor will use the annotation feature on Zoom to create a path of the directions that the students are sharing.
Der Lehrer verwendet die Anmerkungsfunktion auf Zoom, um einen Pfad der Richtungen zu erstellen, die die Schüler freigeben.
List of Landmarks to Assign:
Liste der zuzuweisenden Sehenswürdigkeiten:
Großer Tiergarten

(Großer Tiergarten)
Museumsinsel (Museum Island)
Der Stadtbad (The Stadtbad)
Brandenburger Tor (Brandenburg Gate)
Oberbaumbrücke (Oberbaum Bridge)
Berlinischer Galerie (Berlinese Gallery)
Berliner Dom (Berlin Cathedral)
Fernsehturm (Television tower)
Brotfabrik Kino und Kunst Zentrum (Bread Factory Movie Theater and Art Center)
Siegessäule (Triumphal column)
 Der U Bahnhof (The Underground Train Station)
Fritz SchlossPark (Fritz Castle Park)
Wrap-Up
Ask students where they would like to visit in Berlin if they could. Ask if students have already been to these places.
Fragen Sie die Schüler, wo sie in Berlin gerne besuchen würden, wenn sie könnten. Fragen Sie, ob die Schüler schon an diesen Orten waren.
End of Activity:
Can-Do statement check-in… "Where are we?"
Read can-do statements and have students evaluate their confidence with thumbs up/thumbs down.
Encourage students to be honest in their self evaluation.
Pay attention and use feedback for future activities!
NCSSFL-ACTFL Can-Do Statements:
I can ask for directions to a place.
I can give directions from place to place.
I can tell someone where something is located.
Cultural Resources
Attached is the link, "Eine Tour durch Berlin"
https://www.youtube.com/watch?v=l_tYfkmgn5Q
How to Remix a Pathways Project Activity
Feeling creative?  The Pathways Project needs your help in remixing activities for the K-12 classroom.
Try taking an activity to the next level by:
Add new content (something you've created or another OER source)
Contribute additional activity suggestions
Integrate authentic materials such as videos, infographics, photos, etc.
Suggest how to implement the activity in the classroom
Customize the content for a specific audience or group of learners (for example, K-5 learners or to differentiate for student's needs)
We want to make it easy to share back with the larger Pathways Project Community! Simply, click this link to remix this activity.
Please consider sharing your remixed activity with us by emailing the activity link to Pathwaysproject@boisestate.edu so that Pathways continues to grow!
If this is your first time remixing, check out our

one minute tutorial

below: