German Level 2, Activity #05: Zum Arzt Gehen / Going to the Doctor (Online)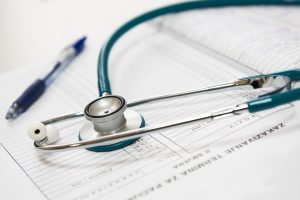 Description:
Students will practice talking about medical issues they may come across. Students will also practice coming up with solutions to common health issues.
Semantic Topics: Health, Gesundheit, Doctor, Arzt, Sickness, Illness, Krankheit, Medicine, Medizin.
Products:  Doctor Note Cards,  Arztbriefkarten.
Practices: Describing illness or injury to a medical professional.  Beschreiben einer Krankheit oder Verletzung einem Arzt.
Perspectives: Health and healthcare is valued in German speaking countries.  Gesundheit und Gesundheitsversorgung werden im deutschsprachigen Raum geschätzt.
NCSSFL-ACTFL World-Readiness Standards:
Standards: 1.1 Students engage in conversations, provide and obtain information, express feelings and emotions, and exchange opinions.
Standards: 1.2 Students understand and interpret spoken and written language on a variety of topics.
Standards: 3.1 Students reinforce and further their knowledge of other disciplines through German.
Idaho Content Standards for World Languages:
Objectives: COMM 1.1 Interact and negotiate meaning (spoken, signed, written conversation) to share information, reactions, feelings, and opinions.
Objectives: COMM. 2.1 Understand, interpret, and analyze what is heard, read, or viewed on a variety of topics.
Objectives: CONN 1.2 Relate information studied in other subjects to the target language and culture.
NCSSFL-ACTFL Can-Do Statements:
I can come up with cures or solutions to a body issue.
I can identify medical issues and provide a recommendation.
I can use body parts and health vocabulary to discuss health-related scenarios.
I can talk about my own health experiences.
Students need scratch paper/markers/pencils
Warm-Up
Begin by opening the Google Slideshow and introducing the Can-Do's for today's activity.
Öffnen Sie zunächst die Google Slideshow und stellen Sie die Can-Do's für die heutige Aktivität vor.
Have students identify the problems in the pictures using the Google slideshow and suggest solutions
Lassen Sie die Schüler die Probleme in den Bildern mithilfe der Google-Diashow identifizieren und Lösungen vorschlagen
sore throat
headache
the flu
broken bones
Main Activity
1. Divide Students into Doctors and Patients into zoom breakout rooms or two or three.
Teilen Sie Schüler in Ärzte und Patienten in Zoom-Breakout-Räume oder zwei oder drei auf.
2. Share the Google Slide Show.  Have the Patients choose either sickness or injury from the slide or create their own.
Teilen Sie die Google-Diashow. Lassen Sie die Patienten entweder Krankheit oder Verletzung aus der Folie auswählen oder ihre eigene erstellen.
They should describe how they feel and what hurts.
Sie sollten beschreiben, wie sie sich fühlen und was weh tut.
3. Have the doctors ask questions on the Doctor's Notes cards and make notes on scratch paper to try and diagnose their patients.
Lassen Sie die Ärzte Fragen auf den Doctor's Notes-Karten stellen und Notizen auf Rubbelpapier machen, um zu versuchen, ihre Patienten zu diagnostizieren.
They should offer their patients solutions, either medicine or other ways to recuperate.
Sie sollten ihren Patienten Lösungen anbieten, entweder Medikamente oder andere Möglichkeiten, sich zu erholen.
4. Have the breakout rooms switch patients and doctors, so that everyone has at least one chance to be a doctor and a patient. Depending on how long each rotation lasts, you can have them switch more than once.
Lassen Sie die Breakout-Räume Patienten und Ärzte wechseln, damit jeder mindestens einmal die Chance hat, Arzt und Patient zu sein. Je nachdem, wie lange jede Rotation dauert, können Sie sie mehr als einmal wechseln lassen.
5. Encourage the students to be creative in their descriptions.
Ermutigen Sie die Schüler, in ihren Beschreibungen kreativ zu sein.
Wrap-Up
Discussion Questions:
Diskussionsfragen:
What do you do when you have a cold?

Was macht ihr, wenn ihr erkältet seid?

When was the last time that you went to the doctor?

Wann seid ihr zum letzen Mal zum Artz gegangen?

Were you ever sick in another country? What did you do?

Wart ihr mal krank, als ihr im Ausland wart? Was habt ihr gemacht?
End of Activity
Read Can-Do statements once more and have students evaluate their confidence.
(Use thumbs up/thumbs down)
Encourage students to be honest in their self-evaluation.
Pay attention, and try to use feedback for future activities!
NCSSFL-ACTFL Can-Do Statements:
I can come up with cures or solutions to a body issue.
I can identify medical issues and provide a recommendation.
I can use body parts and health vocabulary to discuss health-related scenarios.
I can talk about my own health experiences.
Cultural Notes:  Here is an  Easy German video about making an appointment with a medical provider.
How to Remix a Pathways Project Activity
Feeling creative?  The Pathways Project needs your help in remixing activities for the K-12 classroom.
Try taking an activity to the next level by:
Add new content (something you've created or another OER source)
Contribute additional activity suggestions
Integrate authentic materials such as videos, infographics, photos, etc.
Suggest how to implement the activity in the classroom
Customize the content for a specific audience or group of learners (for example, K-5 learners or to differentiate for student's needs)
We want to make it easy to share back with the larger Pathways Project Community! Simply, click this link to remix this activity. Please consider sharing your remixed activity with us by emailing the activity link to Pathwaysproject@boisestate.edu so that Pathways continues to grow!
If this is your first time remixing, check out our

one minute tutorial

below: