German Level 4, Activity 08: Zungenbrecher / Tongue Twisters (Online)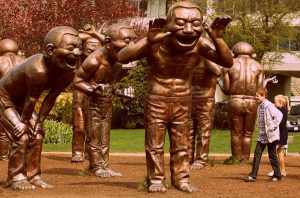 Description: In this activity, students will become familiar with and learn how to say different German tongue twisters.
Semantic Topics: Tongue Twisters, Zungenbrecher, Pronunciation, Aussprache, Grammar,  Grammatik.
Products: Tongue Twisters, Zugenbrecher.
Practices: Having fun with the German language through Tongue Twisters.  Spaß an der deutschen Sprache durch Zungenbrecher.
Perspectives:  Fun and low-stress activities promote better German language acquisition.  Spaß- und Nicht-Stressig-Aktivitäten fördern den deutschen Spracherwerb.
NCSSFL-ACTFL World-Readiness Standards:

Standard 1.1 Students engage in conversations, provide and obtain information, express feelings and emotions, and exchange opinions.
Standard 1.2 Students understand and interpret spoken and written language on a variety of topics.
Standard 2.1 Students demonstrate an understanding of the relationship between the practices and perspectives of the cultures studied.
Standard 3.1 Students reinforce and further their knowledge of other disciplines through German.
Idaho State Content Standards:
Objective: COMM 1.1 Interact and negotiate meaning (spoken, signed, written conversation) to share information, reactions, feelings, and opinions.
Objective: COMM 2.1 Understand, interpret, and analyze what is heard, read, or viewed on a variety of topics.
Objective: CLTR 1.1 Analyze the cultural practices/patterns of behavior accepted as the societal norm in the target culture.
Objective: CLTR 1.3 Function appropriately in diverse contexts within the target culture.
Objective: CONN 1.1 Compare and contrast information acquired from other content areas.
Objective: CONN 1.2 Relate information studied in other subjects to the target language and culture.
NCSSFL-ACTFL Can-Do Statements:
I can compare German tongue twisters to English ones.
I can enunciate difficult sentences with words that are similar to one another.
I can say and understand German tongue twisters.
Warm-Up
1. Discussion Questions:
Was ist ein Zungenbrecher? (What is a tongue twister?)
Kennt ihr alle Zungenbrecher? (Do you know of any tongue twisters?)
2. Watch the video from "Learn German with Anja" and get ready to practice some tongue twisters!
Have students try to say,

"Manche Mönche sind in München".
Main Activity
1. Read through the individual tongue-twister slides.  Then display the slide with all the tongue-twisters.
2. Have each student chose German tongue twister.  Give the students 5 minutes to learn how to say it and to try to say it as fast as possible. Return as a group after the 5 minutes have passed and have each student present their tongue twister and the other students will try to say each one.
3. Tongue-Twisters
Zungenbrecher
Fischers Fritze fischt frische Fische. Frische Fische fischt Fischers Fritze.
Am zehnten zehnten zehn Uhr zehn zogen zehn zahme Ziegen zehn Zentner Zucker zum Zoo.
Wenn Griechen hinter Griechen kriechen, kriechen Griechen hinter Griechen her. 
Schwarze Katzen kratzen mit schwarzen Tanzen.
Ein sehr schwer sehr schnell zu sprechender Spruch ist ein Schnellsprechspruch.
Wrap-Up
Ask students the following question(s) to finish the activity:
Denkt ihr, dass deutsche Zungenbrecher schwerer als englische Zungenbrecher sind? (Do you guys think that German tongue twisters are more difficult than English tongue twisters?)
Kennt ihr andere deutsche Zungenbrecher? (Do you guys know any other German tongue twisters?)
End of activity:
Read Can-Do statements once more and have students evaluate their confidence. (Use thumbs up/thumbs down)
Encourage students to be honest in their self-evaluation.
Pay attention, and try to use feedback for future activities!
NCSSFL-ACTFL Can-Do Statements:
I can compare German tongue twisters to English ones.
I can enunciate difficult sentences with words that are similar to one another.
I can say and understand German tongue twisters.
Cultural Resources
Schlapplachen (to crack up) and Kaputtlachen (to laugh your head off) are two fun words to use instead of the simple Lachen (to laugh).  The German  word for the Telephone Game, Whisper or Quiet Whisper is "Stille Post".  Here is a fun and educational tongue twister video from Get Germanized. Learn German Tongue Twisters | Deutsche Zungenbrecher Challenge.
How to Remix a Pathways Project Activity
Feeling creative?  The Pathways Project needs your help in remixing activities for the K-12 classroom.
Try taking an activity to the next level by:
Add new content (something you've created or another OER source)
Contribute additional activity suggestions
Integrate authentic materials such as videos, infographics, photos, etc.
Suggest how to implement the activity in the classroom
Customize the content for a specific audience or group of learners (for example, K-5 learners or to differentiate for student's needs)
We want to make it easy to share back with the larger Pathways Project Community! Simply, click this link to remix this activity.
Please consider sharing your remixed activity with us by emailing the activity link to Pathwaysproject@boisestate.edu so that Pathways continues to grow!
If this is your first time remixing, check out our

one minute tutorial

below: